The Port Moresby Nature Park in partnership with Enzo's Cafe hosted for the first time the 'World Pizza Weekend" day at the park on Saturday.
Port Moresby Nature Park General Manager for Commercial Operation, Mr Sree Vythalingam said that the World Pizza Day falls on 9th February but because the day falls on a week day, most students and parents would attend classes and work so the Port Moresby Nature Park decided to host the event on the weekend.
"So today and tomorrow we are celebrating for the first time ever and I want to believe that in Papua New Guinea we are celebrating something quite fun for the family which is called the World Pizza Weekend."
Mr Vythalingam added that its the first time for Port Moresby Nature Park, to host such a big event like this.
"What we want is that people are going back to school right now so we thought of doing something totally different to start of the year for us here at the Port Moresby Nature Park just to get a bit of excitement and the kids and their families out there to enjoy the weekend", added Sree.
Enzo's Café came up with a special small size pizza that is not found in any of the Coral Sea Hotels or at any other outlets in the city but was made specifically for this event.
"This special prize pizza is going for K25.00 and after this weekend's event, you will not find this type of pizza size around so if you love pizza, this is the right place to be this weekend", added Sree.
Apart from that, the event had fun activities and games for the kids like pizza ring toss, face paintings, Nature Park trivia questions and awesome prizes to give away.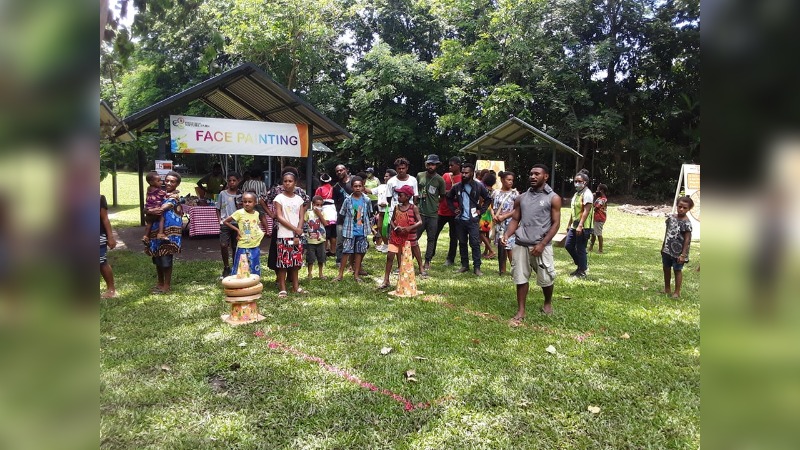 A booth was set up for customers to buy deliciously baked pizza. "Thanks to the partnership with Gateway, we are also giving away a special promotion this weekend on Saturday and Sunday so a chance and opportunity will be given to guests who attend this event to be in the running to participate in a draw to win", said Sree.
He added on saying that two (2) lucky winners will spend two (2) nights at Gateway Hotel on Saturday and Sunday.
"So we are looking at actually getting a lot of people here for the weekend to enjoy the pizza and the activities that they can pay and engage in", said Sree.
He said that all the funds raised from the fun games will go towards the Wildlife Appeal to help us look after the animals. Gateway Hotel Apartments Food & Beverage Manager, Mr Randy Jackson said that Enzo's is a well-known brand but we looked at our prizes at the Enzo's Shops and it is a little bit higher and what we have tried to maintain is for the average family person her.
"So that is why we have created a special design pizza, same ingredients, same taste but with a much reduced prize and that is what we want to actually market and we want 9/10 people who enter the park to buy pizza and that is our main goal and we could not have done it without the Port Moresby Nature park", said Mr Jackson.