"Doing what I am good at is not for the sake of the money but for the passion I have for it."
These are the words of one talented Jayde Jemimah Ovia, who has always had a dream of becoming a professional makeup artist one day.
Ovia, aged 23 from Central and Gulf, took up Cosmetology at Caritas Technical Secondary School.
After completing her studies in 2016, Ovia went into the fashion industry and took up modelling.
She has been modelling ever since, following the recent fashion runway shows she took part in; the MPIP fashion show and the Paradise Runway.
"This is my sixth year of modelling now and ever since; the experience of modelling has boosted me even more in doing what I am most passionate about."
"Modelling comes with beauty and that's where my passion has grown."
Ovia who has always had a passion for beauty and fashion said that being a makeup artist is something that she loves doing, especially for young girls and women.
"I mainly do makeups for little girls in schools and also within the community that I reside in."
"As part of my practice and experimentation, I also practice applying makeup on my sisters and nieces at home."
Apart from modelling, Ovia has also done voluntary work with Cheshire Homes in which she helps out during her free time.
Ms Ovia volunteers in reading books to the students as well as taking part during their play time.
"Due to the shortage of teaching staff, I help assist the teachers with the children."
"I also prepare them for special events such as fun days, parent teacher days and so forth."
"With the skills that I have gained, I share with them and that is of course through doing makeups for the little girls and dressing them up."
"Another school where I do voluntary work is Waigani Primary School where I usually volunteer to dress them up for mini fashion shows, specifically for Book Week," Ms Ovia said.
Apart from volunteering at schools, Ovia also conducts sessions with young girls in her community where she teaches modelling and fashion.
"Being a model is not only about dressing up and looking pretty but also about being respectable and having integrity in your own self."
"This is part of me being a good role model to these young girls and most importantly, having an impact in someone else's life."
In addition to this, Ovia has also used her makeup talent to address awareness based on real life issues in the country such as Gender based violence.
"I create makeup, specifically makeup that I use for real life issues such as GBV, one of them being the passing of Late Jenelyn Kennedy who died as a result of violence."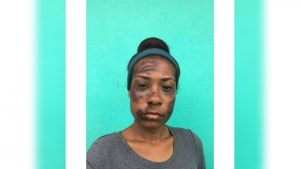 "My aim is to influence a lot of people; especially females as I believe that using my talent to change others' lives, will create a greater and safer community."
According to Ovia, she believes that in order to build the fashion industry, she would like to use her talent to address issues affecting the country.
This will make sense as to why the fashion industry is important as well.
Due to her vast modelling experiences and makeup skills, Ovia was invited as an inspirational speaker for the Native Fashion and Arts Academy for young girls modelling training which was part of their modelling and ethics training.
"I hope that with my gift and talent, I can help a lot of young girls and women."
"Fashion and styles are not only about the looks but it is something we can use to inspire and help others."
Ms Ovia is currently providing a makeup treat for young girls for their graduations and formals which is free of charge.
The young makeup artist said that this is part of her way of helping those who can't afford such services and is happy to do what she can to help these young girls.
Images supplied