Samarai-Murua MP and Tourism, Arts & Culture Minister Hon. Isi Henry Leonard was officially sworn-in during the 10th Milne Bay Provincial Assembly in Alotau on Friday.
Hon. Leonard, re-elected for a second term by the people of Samarai-Murua was the final member of Milne Bay Parliamentary leaders to be sworn in at the provincial assembly.
His four provincial colleague leaders headed by Governor Hon. Gordon Wesley, Esa'ala MP Jimmy Maladina, Kiriwina-Goodenough MP Douglas Tomuriesa and Alotau Open MP Ricky Morris were all sworn in earlier last Thursday when the assembly sat for the first time after the 2022 national general elections.
Senior Provincial Magistrate Wialo Sakatao carried out the swearing in ceremonies at the provincial assembly on both days.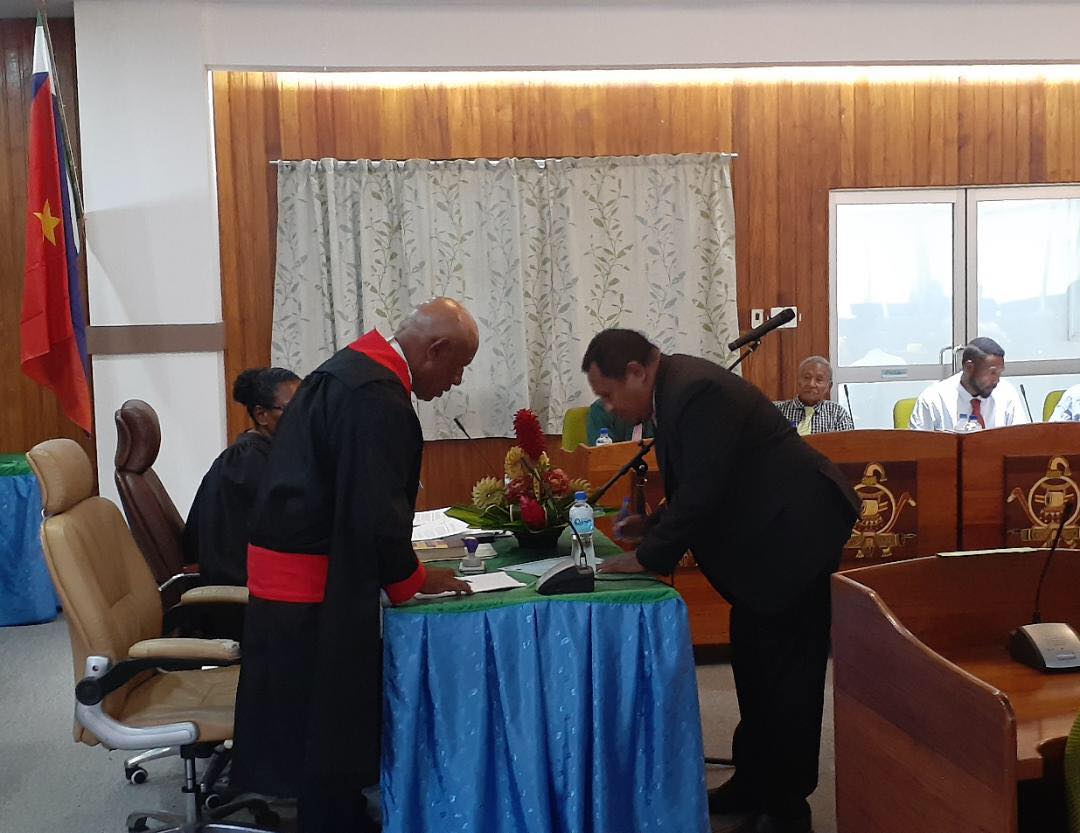 Hon. Leonard has been rewarded the same portfolio as Minister for Tourism, Arts & Culture by Prime Minister James Marape recently.
In his remarks at the provincial assembly, he highlighted among other things the need for economic independence within his district and Milne Bay province.
He said bigger mines in the country could be shared with investors but smaller mines like Woodlark and Missima Islands was something he was pursuing to be nationalized.
"On Jommard passage I was fortunate with Esa'ala MP Jimmy Maladina to visit the National Maritime Service Authority and there we saw on screen how many ships and vessels pass through the passage," Hon. Leonard said.
Adding that on a normal basis there were more than 18 to 20 vessels but on peak periods it would go up from 40 to 60 vessels.
He said opportunities were there to harness and commercialize the Jommard passage.
Minister Leonard has been in discussions with the Transport and Civil Aviation Minister Hon Walter Schnaubelt to take ownership and commercialize the opportunity presented by Jommard passage.
"We the provincial government, and the people of Samarai-Murua and even other districts like Kiriwina-Goodenough and Esa'ala will all benefit from it," he said.
Meantime on the issue of Conflict Group of Islands in his district, he said that Standing Orders in Parliament did not allow him to ask questions as a minister, therefore he could not raise the issue on the floor but as soon as it appeared, he wrote a letter to Prime Minister James Marape regarding the issue.
Hon. Leonard also met with Deputy Prime Minister and Minister for Lands and Physical Planning Hon. John Rosso last week to discuss the matter.
Indicating that Hon. Rosso had summoned the Conflict Islands owner Mr Ian Gowrie-Smith to report to the Lands Minister, so they could resolve the matter.
"The idea is simple, we are taking back our island, so that our people can benefit from it.
"We would like to protect it, make it a marine conservation area, so we protect our marine environment and at the same time harness it for tourism purposes." Hon. Leonard said.
He also echoed the importance for all Milne Bay leaders to work together in this term of parliament to address law and order among other sectors to create change and tangible development for their people.
Governor and Chairman of the Provincial Assembly Hon. Wesley including Open MPs Hon. Tomuriesa, Hon. Maladina and Hon. Morris shared similar sentiments on the need to work together to curb law and order and to create a conducive environment for the province to thrive in all sectors of development.
The swearing in ceremony for all MPs in Milne Bay province is part of the process to kick start the provincial assembly and its business for this term of parliament, similar to all provinces throughout the country