St Charles Lwanga Secondary School has received a refurbished library, complete with e-library units from BSP Life yesterday, as part of the BSP Financial Group's community involvement project for 2021.
BSP Life country Manager, Nilson Singh said as part of contributing meaningfully back to communities, this initiative focuses on education through the refurbishment of the school's current library with the inclusion of an e-library and reading materials.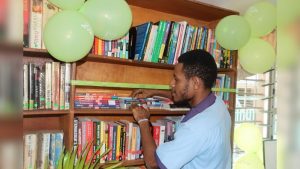 "We at BSP Life PNG Limited wanted to focus on education as part of our community project this year and that's how we came with this initiative at St Charles Lwanga Secondary School."
"This project shows BSP's commitment is not only to be the best financial service provider but we are ensuring that our customers and stakeholders are looked after from a community level up."
The refurbishment and e-library set up is worth K30,000. This includes four brand new PC units, a two year Nuinet subscription of 250GB of free educational material and additional books which includes both text books and reading books.
Singh added that education is the most important investment a country can make and the library can now be hub of learning, bridging the digital divide and making a difference in the life of students.