Divine Word University medical laboratory scientist Henao Rakatani topped her class in an external competency training for malaria microscopists in the country.
Heano achieved a level one status. She was among 12 other microscopists who participated in a World Health Organization (WHO) virtual malaria competency assessment in Port Moresby from November 9-13.
The virtual training was conducted by WHO consultant Lieutenant Ken Lilley, with cofacilitation by Central Public Health Laboratory (CPHL) quality assurance manager Ernest Velemu and malaria scientist Dorothy Abala.
Lieutenant Lilley connected with the participants and cofacilitators in Port Moresby via video link from the Australian Defence Force Malaria and Infectious Diseases Institute.
Participants came in from Modilon, Kundiawa, Vunapope and Tari hospitals, Yagaum and Butuwin health centres, the PNG Institute of Medical Research, Divine Word University (DWU), and the CPHL Malaria and Quality Assurance units.
Henao said the training will help microscopists across PNG improve malaria diagnoses and health outcomes for patients.
"It enhances and enriches me as a medical laboratory scientist, especially in the diagnosis of malaria," she said.
"Laboratory confirmation of diseases is very important because it helps doctors to effectively treat the patients.
"I love my job because it contributes to the health of Papua New Guinea."
Sosenue Sokoemuc, a medical laboratory assistant at Yagaum Health Centre in Madang said: "This is a very useful training for Yagaum because many patients are presenting with symptoms malaria at the health center.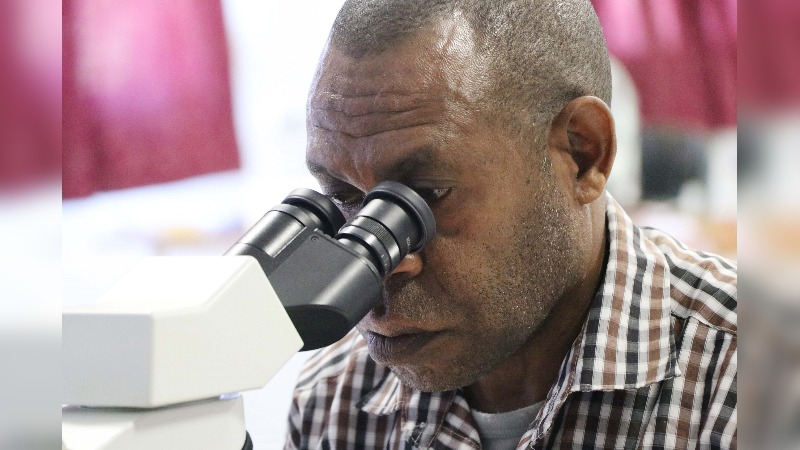 He added that there has been progress in the fight against malaria in the country and specialised training for health workers will help them even more in malaria diagnosis and treatment.
Each year, CPHL conducts two external competency assessments of malaria microscopists supported through the Australia-China-PNG Trilateral Malaria Project.
Through species identification and parasite count, the assessments allow them to grade, identify and map the gaps in malaria microscopists in PNG and to plan strategic approaches to address and improve malaria diagnosis throughout the country.