9 year old Oliver Alexis Kassman, may have had little to no memories of the Grand Chief Sir Michael Somare, but he knew at heart that the man the whole country was mourning, had to be someone highly respectable and above reproach.
Little Oliver heard of the idea of lighting and raising lanterns on the night of the state burial to honour the Late Grand Chief Sir Michael Somare, but had a totally different approach; and thought, what a better way to farewell the founding father, whom he has never met in person, by planting trees during the national haus krai period.
Oliver is the last from a family of five, and attends Gordon's International School in Port Moresby. He resides at Gereka just 13km outside of Port Moresby with his parents. He developed a hobby of growing and selling Okari (Terminalia kaernbachii) trees during the first lock down the country went through, in the hope it would help pay for his schools fees later on in the future.
It's not usual that to see little kids in our community engage themselves in such activities to help sustain livelihoods and also to keep them busy apart from school and hanging out with our friends especially at an age of nine (9).
Hailing from a mixed parentage of Central, Philippines and Indonesian, the idea came to him during the initial COVID-19 lock down when he was taken out of school for his safety; that triggered the idea to start up his small SME.
Oliver's dad, Mr Edward Kassman said for the sake of the environment, planting a lot of trees will be beneficial because it will in return provide us with food, shade and most of all breathable oxygen.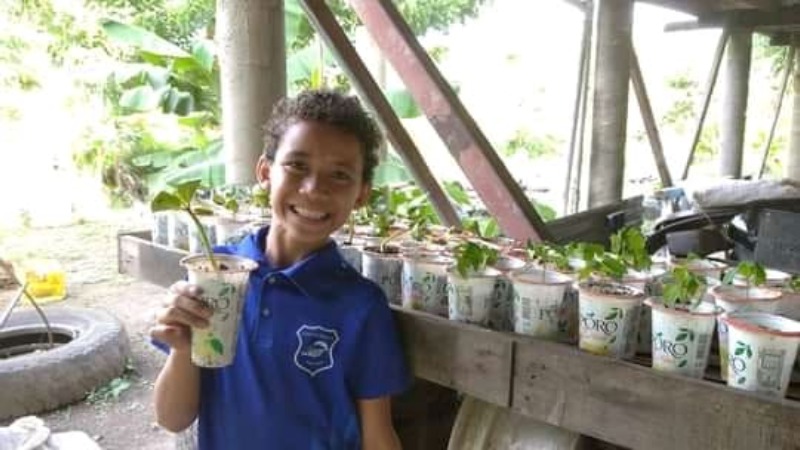 Oliver started selling his nursery plantings in October last year and his reason for growing these trees is to make the yard cooler to provide shade and also the nut is edible which little kids enjoy. When asked what he wanted to do with the money that he saved, little Oliver proudly said apart from paying for his fees, he wanted to build a big house for his mum one day.
Oliver has big dreams and hopes he can be able to travel the world one day to learn more about planting, nurturing, safe guarding and most importantly how he can grow his business. Oliver is selling his Okari Trees for K1.00 and interested customers willing to help him by purchasing a tree can contact his Dad (Edward Rsj Kassman) on Facebook.