The World Health Organization (WHO) has intensified collaboration with the Government of Papua New Guinea as mass gatherings to commemorate the country's founding prime minister threaten to accelerate already rising cases of COVID-19.
In February 2021, cases rose steeply, with 449 cases reported in the month of February alone, bringing the total to 1,365 with 14 deaths. Hospitals are under pressure as the number of patients mounts and some health care workers are infected with SARS-CoV2, the virus that causes the
coronavirus disease 2019.
After former Prime Minister, Grand Chief Sir Michael Somare died on 26 February, the country announced 12 days of mourning across the country from 1 to 12 March.
Commemorations include church services, community events, a state funeral with funeral procession and traditional "haus
krai" (wake) gatherings.
Dr Luo Dapeng, WHO Representative in Papua New Guinea, paid tribute to the former prime minister and said his team was working closely with the National Department of Health (NDoH) to encourage safe mourning.
"It is fitting to mourn the loss of the late Grand Chief, Sir Michael, the "father of the nation", and it is important to do so safely. Our WHO team is pleased to work with the National Department of Health to re-enforce the importance of protective measures to limiting COVID-19 transmission.
We commend the national organising committee which put in place measures such as physical distancing for the hauskrai inside the John Guise Indoor Stadium in Port Moresby."
Distancing is one of several recommendations in a range of guidance WHO has published to support national authorities and other leaders to assess and minimise the risks posed by mass gatherings during the pandemic.
"Maintaining the six healthy behaviours during the whole mourning period and beyond will be important to prevent transmission. To protect themselves and others, it is important for mourners to remember physical distancing, wear a mask, avoid crowds, clean their hands, stay home if they
are unwell, and cough into a bent elbow or tissue."
Such life-saving messages are a core part of the Niupela Pasin campaign led by the National Department of Health with support from WHO and partners.
WHO is also working with NDoH counterparts in provinces that have reported recent surges in cases, including East Sepik, West Sepik, Madang and the National Capital District.
Support includes visits to assess needs and deliver training on topics such as surveillance, clinical management, and infection and prevention control.
A joint team is currently in Wewak, East Sepik, the home of late Sir Michael, to support the province's COVID-19 response, as well as work with health authorities there to mitigate risks of COVID-19 transmission during the mourning period.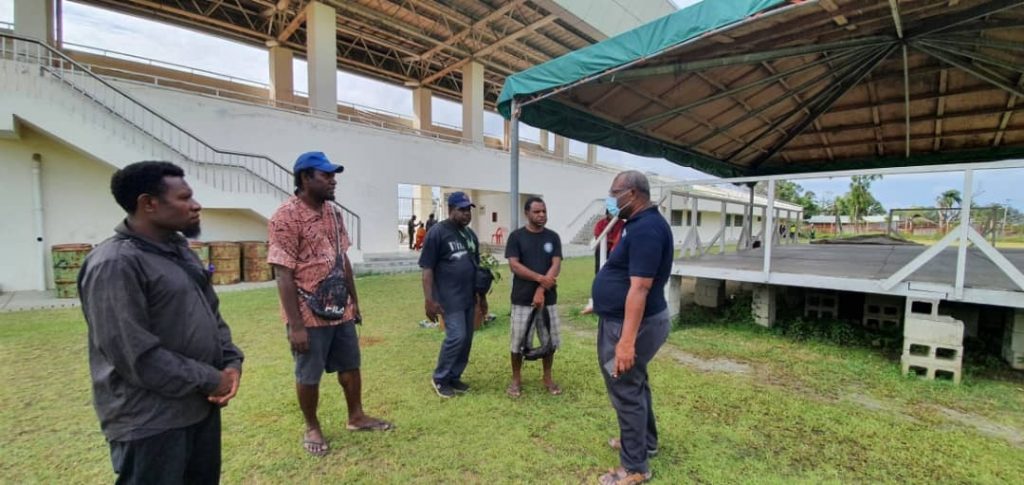 In West Sepik, the team spoke to officers at the Correctional Services on protective measures after positive COVID-19 cases were reported there. In Madang, the team assessed laboratories and the screening process at Divine Word University campus.