The St John Ambulance Service was out in full force during the new year celebrations with 6 ambulance units on road and more than 28 ambulance officers, paramedics and clinical crews on duty from 6pm to 6am at the Ambulance Headquarters 3mile.
A total of 36 cases and incidents were attended to across the city by ambulance personnel and paramedics.
Over half of these were trauma cases involving alcohol related incidents of violence including a number of stabbings.
84% of the cases that St John attended on New year's eve were all related to trauma with majority of the incidents happening between 12:30am and 2am in the morning.
CEO for St John Matt Cannon said they speculate that alcohol was involved in most cases of violence that occurred.
"St John has always been busy with emergency operations in Port Moresby and the New Year."
"We are greatly concerned about the availability of cheap high-strength liquor in NCD."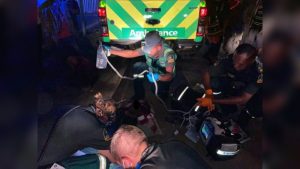 "Our ambulance crews are seeing the violent effects of people becoming heavily intoxicated on such cheap, strong liquor."
"St John Ambulance supports the call from ACP Anthony Wagambie Jnr, RPNGC and NCDC for a review into the sale of cheap, high-strength liquor in NCD, with an important view that we must protect vulnerable people in our community."