The Nimamar Council or Tumbawinlan ( Haus man ) is New Ireland's richest Local Government and as such it has put its hands up to partner with the New Ireland Government to build its  new Council Chamber on Lihir Island.
The Council made its position known during  a meeting with officers of the New Ireland Government, Works Department and contractor CRCG on Wednesday 9th June in Kavieng. Representing the Council was Deputy President and Chairman for SME  Sebastián Siandodo, Ward 2 member and Chairman for Infrastructure and Impact projects Ambrose Silur and Care taker secretary Chris Malos.
The Deputy President conveyed that the LLG would top up K1 million on funding allocated by the New Ireland Government. Variances to the building will be made in line with the design preferences of the Council.
This includes an extra conference room, more offices and a culturally significant figure of the Kabai at the front of the building.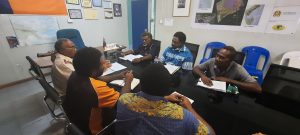 "The Nimamar Council has been preparing to build a Council Chamber of its own but when we heard the New Ireland Government was building Council Chambers in all the 10 Local Government areas  we decided to just partner with it but also include some of our own details," said Deputy President Sebastián Siandodo.
Meanwhile the Council is also looking to partner with the New Ireland Government to rollout its Lighting New Ireland policy into three of its outer lying Islands.
" Seeing the successful implementation of the policy we would like to engage the same contractors through a partnership with the New Ireland Government to rollout Solar Street Lights to our outer Islands."
The Nimamar Council pledged it support to the  New Ireland Government and emphasized its position to work  alongside the Government of the day to propel the province forward.