The Milne Bay Community in Port Moresby with its peace-loving citizens are demanding in unison the removal of Milne Bay governor John Luke Crittin.
"In our province, our Governor has not been physically involved in the affairs of Milne Bay Province."
"We are calling for him (governor) to step down."
"We are concerned for the welfare of our people and we need an active governor to take on that role."
President of Milne Bay Friends Foundation, Mr Allan Baniyamai told a media gathering this week, that their call for Governor Crittin to step down has no political intent, but a good and fair call for the people of Milne Bay in light of the on-going crisis in the province.
The Milne Bay Community Association and senior Milne Bay citizens joined the gathering to air their concerns on the lack of leadership and heightened criminal activities gripping the province recently which led to the burning down of the Police barracks and looting of shops.
Mr Baniyamai expressed concerns on the welfare of the displaced families that were affected by the evictions of the settlements.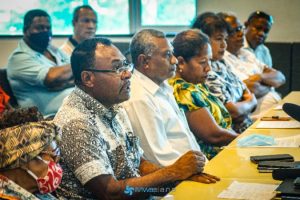 He said that people living in the settlements have children is school and this is affecting them the most.
He believes that the absence of the governor has led to lack of leadership which means issues in the province haven't been attended to.
"The province needs a leader to step forward and deal with the issues on ground in the province," said Baniyamai.
"The provisions of the Organic Law on Provincial and Local Level Governments is the law that establishes the office the governor and that law also sets the qualifications of whoever intending to be there. That provision is section 17."
"Section 23 says that the governor is the chairman of the Provincial Executive Council, so he plays a pivotal role in the governance of the province."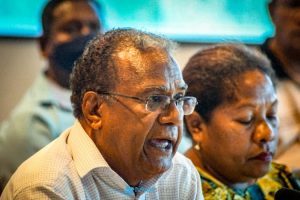 He said that the provisions were set out as the intention of parliament that a person must be fit as in mentally and physically fit to take on the role of Governor.
He added that they are working with their lawyers on the next step if the governor does not want to voluntarily step down.
Meanwhile the Chairman of the Milne Bay Friends Foundation Law and Order committee, Mr Robert Igara met with Community leaders, SME Owners, Church Leaders and public administration officials on charting a way forward.
He said that the people in Alotau are now facing serious consequences of law and order issues in the province.