A great partnership Library Learning Centre has today officially opened its doors to children in Tabubil. In this remote part of Papua New Guinea, high quality books and literacy materials are hard to come by – yet the only way for children to gain information and knowledge.
Established by the LikLik Skul Foundation in partnership with StartMart, Kayop Investment Limited, the Tabubil Development Corporation, the Milum community, the Ok Tedi Mining Limited and Buk bilong Pikinini – the new centre 'Buk bilong Pikinini Fubilan Library' (named after Mt. Fubilan) – features an Early Childhood Education program, community library services and a school bus.
Buk bilong Pikinini (BbP) has established more than 20 such Library Learning Centres across Papua New Guinea with its partners and offers a highly efficient – free – Early Childhood Education program to 5-year-old children. In addition to this, the organisation also conducts teacher and community educator training, donates School Library Kits and publishes books especially for PNG children.
Most schools in Western Province have empty library shelves – one teacher mentioned that the last time they were able to order books was more than a decade ago in 2009. Miss Cathy Kiri, the principal of Tabubil International School said that: "Literacy is very important especially for the landowner children as after the mine is gone, what will happen to them? She added that these children have never left Tabubil and the library is a window to the world." She applauded the initiative by the partners and Buk bilong Pikinini to establish the Library and the Early Childhood Learning Centre.
It has taken a lot of work to get this Library Learning Centre opened but everyone has pulled together and got it done for the community. Around fifty, five-year-old children from the Tabubil town community and the nearby mine villages will be enrolled in the Early Childhood Education program in April. The children will be attending the program from 8am-2pm every day, which is delivered by Agnes Taiyo – a highly experienced Buk bilong Pikinini Head Teacher-Librarian. The community library is also open for all school children to attend on weekends.
To mark the opening of the Library Learning Centre the Buk bilong Pikinini Fubilan Library also received the donation of a 15-seater bus from Maino Lucas of Kayop Investment Limited. The bus will provide the children with much-needed transport from the villages.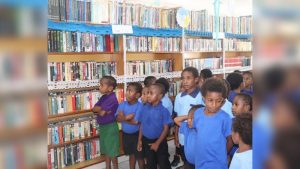 Ian Middleton, Founding Chair of the Lik Lik Skul Foundation, said: "I am super excited about the Liklik Skul Foundation's partnership with Buk Bilong Pikinini, and the consequent opportunity to deliver improved education outcomes for children in Tabubil town and the surrounding mine villages. BbP is a proven early childhood development program with demonstrated results across many other locations in PNG, and I look forward to seeing these evolve here in Tabubil. I also look forward to growing our partnership and reaching more and more children across Western Province in the years to come. All this would not have been possible without the added generosity of OTML and StarMart and I sincerely thank both organisations. We would not be here today without you all, happy celebrations."
Leanne Resson, BbP Executive Officer said: "We are grateful for the support from all partners in this venture and are looking forward to assisting the children enrolled at the Buk bilong Pikinini Fulbian Library with a comprehensive Early Childhood Education program, giving them the best educational foundation skills for a very bright future indeed."
Anne-Sophie Hermann, BbP Founder and Chairperson said:
"As we are celebrating our 15 years of operations this year – we are so excited to have the opportunity to reach children in a location as remote as Tabubil. We will also look forward to be reaching the surrounding communities to assist with improving access to books, literacy materials and training at schools and thereby help to improve learning outcomes. It is vital that all children across Papua New Guinea be given the chance to become literate and enjoy reading about what goes on in the world around them."
Norman Temu, OTML Acting General Manager, People and Capability said:
"Ok Tedi Mining Limited recognises the importance of early childhood education and supporting the Tabubil town and mine village communities with improved education from the very beginning is important. There is currently an absence of proper functioning public libraries in PNG, and Tabubil and its surrounding communities are very privileged to have this library established that will go a long way in helping our children."