Isaah Yeo is the model every club wishes to build their pathway foundations on.
Set to play his 200th NRL game in the same week he committed his long-term future to the club, 28-year-old Yeo is seen as the perfect example of the Panthers' pathway success.
It was in 2012 that Panthers pathways manager Lee Hopkins first came across the then-17-year-old centre, who arrived from Dubbo to join Penrith's SG Ball team, and 11 years on, the two-time premiership-winning skipper still calls Penrith home.
Set to become the ninth player to play 200 games for the club and only 45 games from breaking Steve Carter's record as the most capped Panther, the World Cup winner is already one of the greatest success stories in the club's history
"What 'Yeoey's' done for his career is the perfect model for how we do things with our country kids, which is what we've always done well," Hopkins told NRL.com
"We bring them in, we look after them and we want them to stay.
"We want them to be 200 gamers not 20 gamers.
"There's a thousand things you could pick out about Yeoey which makes him a great player and a great role model. He's a pure gentleman off the field and a fantastic footballer."
But from day one, when a big, tall running centre came down to play SG Ball, it was his dedication that I remember.

Panthers Pathways ManagerLee Hopkins
Having progressed through the outside backs to become a two-time Dally M Lock of the Year and lead his club to back-to-back NRL premierships, Yeo has achieved on-field success that most players only dream of.
But more importantly, Yeo's journey has shown the next generation of Panthers stars that no matter where you call home, there is always a path to the NRL stage.
"I'm pretty sure he was close to one of the first country kids that came through the system and then he was closely followed by the likes of Dylan Edwards and Liam Martin," the former Penrith and Parramatta forward said.
"For every Yeoey, there's been five or six others that unfortunately didn't make it but that's just the nature of rugby league.
"Especially country kids, some of the biggest steps they make is moving down here and having a punt on a career.
"Yeoey did all that, he moved away from home and now he calls Penrith home. Pathways don't like taking the credit for too many things, we can get them to a point, but they've got to walk through the door.
"We're grateful as a club for every country kid that comes here to give it a shot. We'll treat them like our own and give them every opportunity to do the best they can but at some point it has to be up to the player," Hopkins said.
"I'll be extremely proud seeing him run out on Friday night and so will the entire club but the person who should be proudest is himself.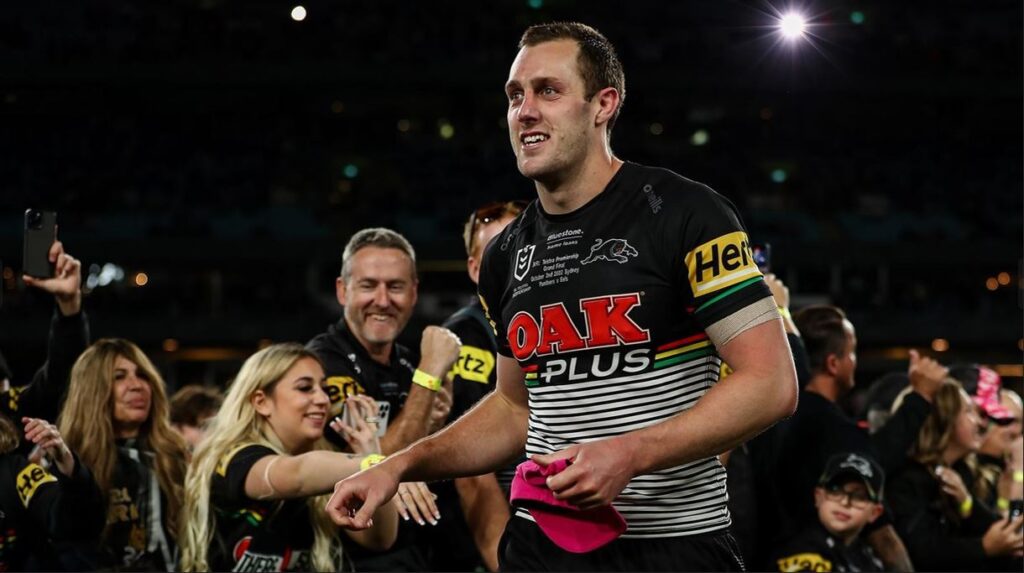 He should be extremely pleased of the person he is, how he carries himself and how he leads from the front.
Panthers Pathways Manager Lee Hopkins
Yeo joins Penrith royalty on Friday by becoming the ninth man to play 200 games for the club – every one of them a premiership winner.
Steve Carter (243) heads the list, which includes fellow 1991 premiership players Royce Simmons (237), Greg Alexander (228) and Brad Izzard (209).
Craig Gower is second all-time with 238 games, while his teammates from the 2003 decider Tony Puletua (211), Luke Lewis (208) and Ryan Girdler (204) also make the honour roll.
Having already captained his side to back-to-back premierships, Yeo is set to become the most capped Panther having re-signing with the club until the end of 2027.
"It's not something you expect to happen when you first debut but I'm super excited about it and understand how proud it makes my family," Yeo said earlier in the week.
"I don't know how long that will last (record), there are a few behind me that will be chomping at the bit.
"But that'll be pretty cool, for a club that's been around for so long, there's no 300 gamer there so we'll see how we go."
Source: NRL.Com