The University of Goroka (UoG), Papua New Guinea's third largest University, is planning to set up a campus in Port Vila, Vanuatu.
This was revealed by UoG's Vice-Chancellor, Dr Teng Waninga during the University's inaugural Vanuatu Graduation Ceremony in Port Vila this week, where 15 students were conferred their degrees after completing four years of study.
They were awarded their academic papers in a packed conference room at the Ramada Hotel in front of their proud parents, family members and community elders.
Dr Waninga said he was proud to reveal that, overall, the Ni-Van students topped the high-achiever awards given out by the University of Goroka to its graduating students.
He also emphasized that, like other Universities and Higher Learning Institutions in Papua New Guinea, the UoG had a long history of building the human resources of Vanuatu and was committed to continuing this service.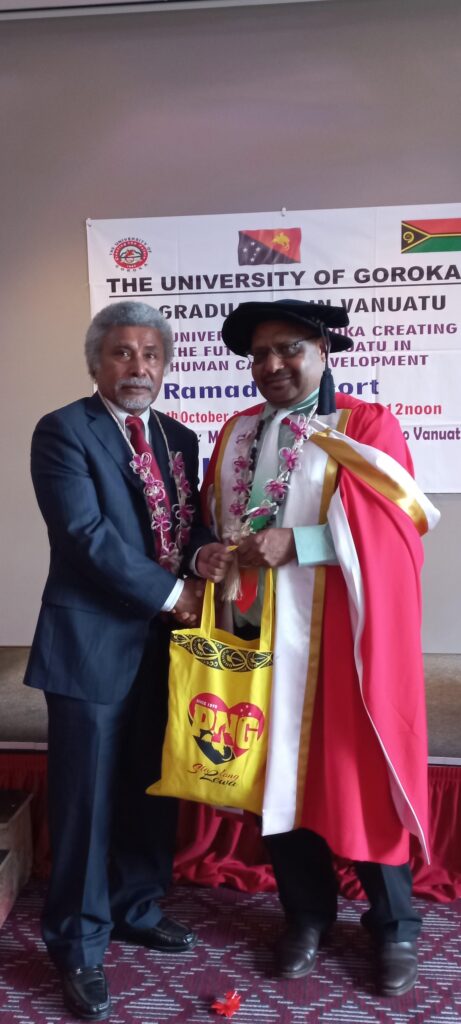 He noted that some members of the Ni-Van Goroka University alumni were present to witness the graduation occasion.
"We have a vision to establish a campus here, not to challenge or compete with other universities that are already here in Vanuatu but to simply bring in our expertise in the area of teacher training and contribute to the development of Vanuatu's human resources," he noted.
"We want to bring our service to Vanuatu to reduce costs and make it more affordable to all stakeholders," he added.
The Director General of the MSG Secretariat, Leonard Louma, who was a guest at the occasion, welcomed the move saying that this initiative by the UoG is consistent with what the MSG Leaders envisage in their desires to see greater cooperation amongst MSG members.
It is in line with one of MSG's core objectives as endorsed by Leaders in the "MSG 2038 – Prosperity for All Plan", to develop human resources through increased education investment and quality training.
"This is a very encouraging move where universities can cooperate to avoid duplication of work and focus on their strengths in order to develop human capital in the context of an increasing MSG population," he stated.