20-year-old Sherwin Tanabi from a mixed parentage of Busamang in Morobe and West New Britain and Manus provinces says the experience of debuting in the Digicel Cup at such a young age not to mention playing for a grand-final winning club like the Lae Snax Tigers is enough to motivate and inspire him in reaching further to achieve his dreams in life.
The youngster who is currently pursuing a Diploma in Business Management at the Lae Polytechnic Institute has just completed his first ever successful season with the Lae Snax Tigers and has admitted that the experience has been nothing short of fulfilling.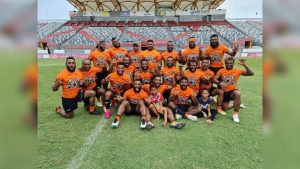 Back in 2017 when the Digicel Cup debutant made the decision to switch from rugby union to league, he was not quite expecting to play in the semi-professional rugby league competition let alone play for the champion Lae Snax Tigers rugby league team within just 3 years.
"Every young boy playing rugby in Lae wants to make it into the champion team and so when I look back on my journey now, I realise that it happened so quickly for me and for that I am thankful and blessed," Tanabi said.
Tanabi said the journey to making it into the final cut for the 2021 Lae Snax Tigers team however has not been a smooth sailing one and has indeed been his greatest highlight so far.
According to the rising rugby league star, he started off playing rugby union in 2016 for the Pirates rugby union club in Lae before deciding to commit full time to rugby league the following year.
"My rugby union experience helped me so much when I did the transition to league as it made it easier for me to blend in so well."
"Playing union at least helped me with getting simple footwork right and speed which I really needed in playing league," Tanabi said.
In 2017 aged just 16 years, Tanabi who was doing his Grade 10 at Busu Secondary School, was already playing in the Lae Rugby League competition for the Royals under 20 team as well as playing for the schoolboys under16 team at the same time.
Since then, Tanabi has played three seasons in the Lae Rugby League with the Royals rugby club, thus making it into the A Grade team in 2019 however, he could not continue playing rugby in 2020 due to the lockdowns caused by the pandemic.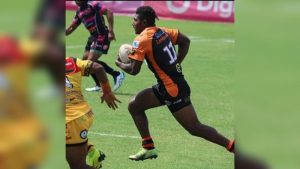 From 2017 onwards, Tanabi was also an integral part of the Northern Zone under 16 and under 18 schoolboys' team which came out as runners up in the Zone championships in 2017 (under16) and then winning back-to-back grand finals in 2018 and 2019 (under18) resulting in a Player of the Tournament award for the youngster in the latter year.
Apart from playing in town competitions, Tanabi also had his sights set on making his entry into the 4-time grand final winning team, the Lae Snax Tigers and so he pursued his passion further by taking part in the Snax 9s tournament in the hopes of making the pre-season training team.
The youngster however did not get his big break until last year when he joined the Prima 13A Bulldogs rugby team to take part in yet another Snax 9s tournament.
"Since 2017, I had been playing in the Lae Snax 9s tournament hoping to get a call up to the pre-season training squad however was unlucky from 2017 to 2019."
"Last year, I took part for the 4th time again in the Snax 9s tournament and that's when I got the call I had been waiting for."
"Coach Stanley noticed me from there and so he invited me for the 2021 pre-season and now I have just completed my first Digicel Cup season," an elated Tanabi said.
The lanky, well-built second-rower who weighs in at 92kg said his biggest challenge has been in trying to gel in well with the boys who have had more experiences under their belt thus posing a real challenge for him to be fast and quick to learn and to play the game at the pace that has been set by the team.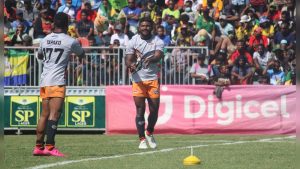 When asked why he chose to switch from union to league, Tanabi said, "I had to choose rugby league over union because I saw that there was a career pathway in league and if I did well, I could actually progress and have a future there."
Tanabi, a rugby superstar in the making, says that he has learnt so much from the club in his first Digicel Cup season and is looking forward to getting better and raising the level of his game next year and making great progress as an upcoming professional sports athlete.
"This year alone, I have been blessed with the opportunity to run with the Lae Snax Tigers rugby team and not only that, I have experienced my first ever Digicel Cup win in my first Digicel Cup season so that's huge for me."
"The Snax Tigers club is not just a rugby team but a place where champions are made and leaders are born."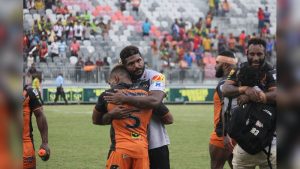 "What I love about the team is the discipline and club culture which is exceptional at all levels, one of them being player development and preparing players for life outside of rugby as well," Tanabi said.
Young Sherwin said that he is thankful to the club for the financial support he has received as well as the flexible training schedules which have enabled him to continue with his studies and at the same time pursue his rugby league dreams.
"This year, I played about 6 round games and also played in the major-semis which we won so all in all, I have had a fair amount of game time this year however, I am looking at exceeding my personal best and reaching my full potential come next year," Tanabi said.
Tanabi who just celebrated his birthday last week said that he is looking forward to the holidays however, he will still be training hard in preparation for the upcoming Snax 9s tournament.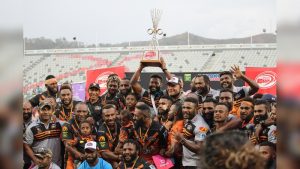 Images supplied