National Capital District Commission has partnered with Unity Mall at Waigani to provide free vending space for over 200 SME owners who are now selling their products and goods.
Sponsored by Unity Mall & Supermarket, SME Service Centre, National Capital District Commission, Ox & Palm, E-Products Limited, Supreme Industries Limited, Pacific International Hospital, SESAG, Paradise Foods, Fathima Limited, and Tourism Promotion Authority, the SME Fair was officially launched by Prime Minister James Marape and NCD Governor Powes Parkop on Friday (December 3, 2021) at the mall.
The occasion was witnessed by state ministers, members of Parliament, business leaders, NCDC senior officials and others including the SME owners.
The National Government has made its commitment to reach a target of 500,000 successful SMEs operating in the country by 2030.
PM Marape, in his keynote speech, stated: 'Getting your hands dirty, doing business and generating income is where you can help your country moving forward."
He encouraged Papua New Guineans to embrace SME strongly and stop being dependent on free handouts.
The Unity Mall is a concept that has come into existence by the PNG Christian Professionals Network to support business-minded individuals especially women to operate and be successful in the SME space.
"I am here to give our government's support to you all because the concept is right in terms of embracing women and those who need to be in the SME space," said PM Marape.
To support the national governments SME policy, Governor Powes has initiated the SME Service Centre to support SMEs in both training and funding.
Governor Parkop challenged SMEs in NCD to make use of the privilege in making the difference now to be successful not only for the city but the entire country.
"The time is now to participate in our economy and benefit from the wealth of our nation," Governor Parkop said.
Governor Parkop stated that when in SME, it all depends on hard work, investing, time, resources, and setting goals and focusing on those goals without allowing any other issues to affect the goals set.
Deputy City Manager for Corporate Affairs, Ms Patricia Mesa Solon also highlighted NCDC's vision for a productive, livable, sustainable city of Port Moresby.
"Through our leaders' wisdom, they have seen the need to support the development of SMEs with collaborative effort with the private sector. NCDC will give its support to complement the National Government's SME policy," Ms Solon said.
Speaking at the occassion, City Pharmacy Limited's Executive Director Sir Mahesh Patel said the focus now should be developing SMEs in the country.
"For too long PNG has been relying on extractive industries. We must now see the importance of SMEs because it is the backbone of this nation," Sir Patel said.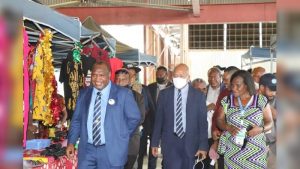 Unity Mall Board Chairman, Eric Haiara said they have not only accommodated SMEs at the mall but have been giving all the technical support they needed to help them to be successful.
"With our bigger plan to operate as a customer owned supermarket, we believe the timing is right with the government's intervention to support us.
Speaking on behalf of SME owners, Jenny Mulungu thanked the Unity Mall management and NCDC for the opportunity that has been given despite the challenges and struggles they face in the SME space.
"The presence of Prime Minster Marape and Governor Parkop shows their commitment to SMEs and that we are grateful and will continue to do business to be successful," said Mulungu.
"Visit the Mega SME Fair from December 3rd to the 16th if you're interested in clothing, floriculture, beauty products or cooked food, most are made locally," she said.