Mr Cogan Toru, Chairman of the Toea Festival on Mailu Island in the Abau District of Central Province says preparations for the inaugural festival are underway and they are anticipating a good attendance with a full 2-day program come November.
The festival which was first initiated in 2016 by Mr Toru's late father was revived again last year after being dormant since 2017.
At the second Toea Festival hosted in 2020, a new committee was appointed to carry on the duties of managing the festival as part of the district's continued efforts towards promoting tourism and culture within the province.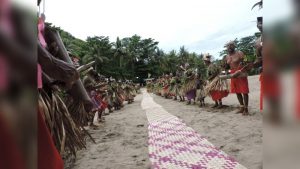 The festival which derives its' name from the famous toea arm shells that were used as a form of money during the Kula & Hiri Trades along the Papuan coastline, is an opportunity whereby the people of Central Province especially from the surrounding districts, can come together to pay homage to their rich cultural heritage which is fast diminishing in today's ever-changing world.
"The Toea Festival has a historical and cultural significance because in today's world, our cultures are deteriorating and rites of passage are not being observed as they were before due to more and more Western influence coming in."
"Through such events like the Toea Festival, it gives an opportunity for us to come together to revive, promote and preserve our culture for many more generations to come," Mr Toru said.
Mr Toru said so far, the Central Provincial Government in partnership with the Tourism Promotion Authority have been very supportive of the festival and they are hoping that more sponsors can come on board to support this inaugural event.
The Toea Festival will be hosted from the 26th to 27th of November on Mailu Island which is located 260km east of Port Moresby with participation expected from the surrounding districts.
"This year, we have extended our reach to communities in Cloudy Bay, Amazon Bay as well as a few villages from Aroma who will be taking part in the 2-day festival."
"We are currently in the process of securing sponsors to enable us to deliver a bigger and better festival this year as we plan on attracting a good number of people to attend this inaugural event."
"Apart from trying to secure sponsors, we are also being vigilant and on the lookout for latest developments surrounding the Covid19 situation in the country and we hope that the situation will improve so that we can be able to proceed with our event as well," Mr Toru said.
Mr Toru further advised that preparations for the event are ongoing however, they have organised to split up into smaller groups to finalise their practices for the upcoming event and also mentioned that more information will be disseminated over the coming weeks.