Board Members of the PNGNRL Bid Project were sworn in this evening in an official swearing in ceremony held at the Hilton Hotel in Port Moresby.
Chairman of the PNGNRL Bid Project Mr Wapu Sonk said he is positive that the board will work well together in moving the agenda forward for a possible entry into the NRL by 2025.
Board members sworn in by Deputy Chief Magistrate Samson Tatakali this evening included Mr Ian Tarutia, Mr Albert Veratau, Mr Stan Joyce, Mr Stanley Hondina as well as the Board Chairman Mr Wapu Sonk.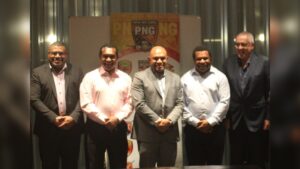 The board held their first board meeting this evening following the official swearing in ceremony to discuss urgent matters pertaining to the Bid Project.
Mr Sonk added that they are confident the Bid Project will bring further development for the code in country and at the same time provide an avenue for the country's elite sports men and women to progress positively in their careers.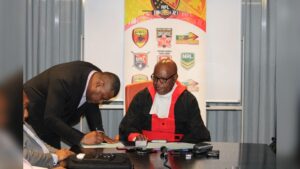 "On behalf of my board, I'd like to take this time to thank the government of PNG and the NEC for having the confidence and faith in the board members and in putting together the Bid Package that will go before the NRL."
"This NRL Bid Project is the second one we are attempting and this time with a new board, we are hoping to put together a bid that will be successful," Mr Sonk said.
The PNGNRL Bid Project Chairman said that through the help of the board, the wider community and the help of the government and the many partners that will come on board the 3-year journey, they are confident of entering the NRL in 2025.