Growing up in a settlement in Sabama, Port Moresby, Sebastian Pandia always had a dream that one day he would play international rugby. This dream held on to him throughout his childhood and although the ride was tough sometimes, Sebastian never at any one time let go of this dream.
His rugby league career dates far back as 2005 when he was but a naïve young high school boy attending De La Salle Secondary School. At just 15 years of age, he made the under 19 team for Gulf West in the PRL competition and in the same year got promoted to B then to A Grade in the competition.
In 2008, while doing his Year 12 at De La Salle Bomana, Sebastian made a bet with his class patron Mr Maliya after he decided to miss all his remedial classes that he would make it into the Kumuls team for the 2013 World Cup.
"My subject teachers could not release me to attend the games because they were concerned about my performance in the upcoming exam."
"My class patron Mr Maliya and I made a bet then and there that for missing all his remedial classes, the next time he would see me play rugby would be at the upcoming rugby world cup."
Growing up as a kid who was in love with the sport of rugby, Sebastian always had difficulty trying to juggle between his studies and rugby.
Eventually he decided to pursue the latter and so began devoting his time and effort into the sport.
"A few times back in high school, I would forgo studies for rugby and always found myself at loggerheads with my school teachers because they would always advise me that my studies were important and should take precedence over anything else," Pandia said.
Sebastian's decision to forgo studies and pursue his rugby dreams was rewarded in abundance when he made the 2013 Rugby World Cup where he debuted for the PNG Kumuls. This was five years after he had made a bet with his class teacher.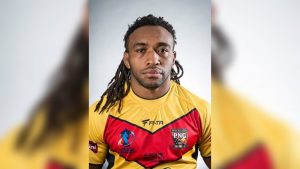 "When I finally made the Kumuls team for the 2013 World Cup, my class teacher from De La Salle reached out to me to congratulate me and it was truly satisfying to be able to prove that I had honored my bet," said the international rugby star.
His progression through the various rugby league platforms and competition levels was seamless and quite progressive. To him rugby was life and he would do anything to play the sport.
In 2010, Sebastian made his break into the Digicel Cup when he joined the then Stop & Shop Port Moresby Vipers.
"My first game experience in the Digicel Cup was up in Wabag and I was listed as the 19th man for the game."
"I can remember I was just there sitting on the bench when my coach, Paul Komboi came over to me and told me to run onto the field with the advise: son get on the field but look after yourself out there."
"He had said this to me because he thought I was too young back then and that I would get injured by the other guys."
Unfortunately, most of the senior players for Vipers were down with injuries at the time so he had to make his debut then but the star says that this was the big break he had been waiting for as his performance in the game earned him the team's respect afterwards.
In 2014, shortly after representing the country at the 2013 World Cup, Sebastian was one of the very first young Papua New Guinean men to be considered for a spot in the newly formed SP Hunters team taking part in the Queensland Intrust Super Cup however this was short-lived after he was released the following year on disciplinary grounds according to the Hunters management.
Pandia said that he was only trying to rescue a fellow colleague when he met his fate at the hands of his attackers. Soon after the incident, he was released from the club with no notice of a possible call back.
However, even through all the setbacks he went through that year, he was fortunate enough to be given a call up by the Ipswitch Jets in 2015 but had to put that on hold as he was still nursing a broken arm.
Eventually in 2016, the star received an email again from Coach Ben Walker and the arrangements to get down to Australia for the pre-season commenced.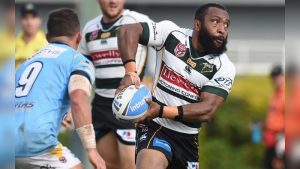 "Although I got an opportunity to go and play down-south, I had to meet most of the expenses on my own and also there was no guarantee that I would have a spot in the team but it was a risk I was willing to take."
Since then, the star has been down in Queensland playing for the Ipswitch Jets for the past five years and continues to work hard on his rugby dreams however, now with the opportunity to further develop himself as a person, Sebastian has also been able to find employment to further support his dreams which of course included pursuing further studies as well.
"When I moved to Australia, I also started to think seriously about my other goals in life one of which was pursuing further education."
"Education was something I put off back home but living in a country like Australia, there are so many opportunities to better oneself and so I decided to seize the moment and commit to finally pursuing that university degree," Sebastian said.
The international rugby star said that the past few years have not been easy and he has gone through so much both personally in his life as well as in his young family but he has decided to keep pushing on out of respect for the ones he loves.
"From 2017 onwards, I lost two of my babies and that particular time in my life was hard as I was going through a lot of issues not just here in Australia but back home as well."
"I am however proud of the strength I have displayed in order to be able to get through all of that and still be able to play the sport I love and at the same time, pursue my education and successfully complete it," Sebastian said.
The star graduated last month with a Bachelor's Degree in Business from James Cook University in Queensland and says that the achievement is one that he will use as a stepping stone to achieve many more dreams in life.
When asked if he had any advise for young boys who are also on a similar journey as himself, he said:
"No one is going to give you a spot in any team. It is you yourself who will give yourself a spot through the hard work that you put in and your commitment towards your goals."
"The same applies to any other thing in life, education included. It is up to yourself to challenge yourself and not to settle for second best," he concluded.
Sebastian also made a special mention of Mr Richard Wagambie who was instrumental in his rugby career in the early days and also extended his appreciation to friends and family who have supported him throughout his life.
Images supplied