The indigenous women from the 6 Motu Koitabu Villages in Moresby South taking part in The 2021 Moresby South-Motu Koitabu Netball Tournament received netball equipment proudly sponsored by one of Papua New Guinea's oldest companies in Swire Shipping today (Tuesday 13th July 2021).
Through the company's corporate social responsibility program, netballs, nets and training cones were officially presented to the tournament coordinating committee in the presence of team captains representing the 24 participating teams of the senior and intermediate divisions at The Southside Fitness Centre.
Swire Shipping Debtors Team Leader, Mrs. Emily Tau said the company was pleased to support the growth of the sport that created a platform for women and girls of Motu Koita to showcase their talent.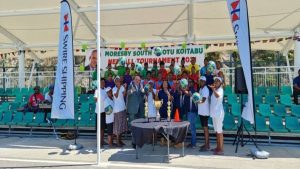 "On behalf of Swire Shipping, we are pleased to support the Moresby South-Motu Koita Netball Tournament with basic netball equipment. We believe in supporting events like this that create a platform for Papua New Guineans to showcase their talent; it is this type of event that make a pathway career and create many other opportunities for people who are truly passionate of what they do so thank you for giving Swire Shipping this opportunity to support a worthy cause," said Mrs. Tau.
Honourable Justin Tkatchenko said the contribution from Swire Shipping displayed their confidence in supporting women empowerment programs.
"It's great to see the business community coming on board in supporting these sporting activities through our Moresby South Office, it just shows you the confidence that the business community has in what we do in promoting our women especially in gender equality and women empowerment initiatives concerning our traditional villages of Moresby South," said Honourable Tkatchenko.
"I'm very happy to see Swire Shipping come on board, one of the country's oldest companies, very dedicated company to PNG, support our Moresby South-Motu Koitabu Netball Tournament which will be running for the next three months at The Southside Fitness Centre; your contribution with professional sporting equipment will go a long way for all the teams involved in our tournament and from this we look forward to your ongoing support now and into the future," said Honourable Tkatchenko.
"Moresby South is blessed to have our Motu Koitabu people part of this fantastic electorate, they are the traditional landowners and they are very talented netballers and with that we've set this competition to enhance our divisional teams to take them to the next level at not just the local level, but the national level as well because we have national netball selectors that will be keeping an eye on the raw talent and passionate young women that we have here from our Motu Koitabu villages," said Honourable Tkatchenko.
With the completion of the Tournament in September, the top teams from the junior, intermediate and senior divisions will face off with the best teams from Moresby North West in a first of its kind competition encounter.
"After this tournament is concluded in September, for the first time the best teams from the Moresby South-Motu Koitabu tournament will play the best teams from Moresby North East and with amount of talent we have here, I have no doubt that we will beat all those teams and wipe them all out without fear or favour," Honourable Tkatchenko said.
The Moresby South-Motu Koitabu Netball Tournament will continue this weekend with round 2 matches of the senior and intermediate divisions this Saturday 17th July 2021.