The boys from the Northern- Momase team are the champions of the inaugural Port Moresby Australian Football League (AFL) MoniPlus Easter Cup challenge after a tough battle for the cup against a strong Highlands region side in the grand final at the Colts Oval yesterday.
The Northern side secured a total of 5 goals and 5 behinds reaching a total of 35 points, ahead of the Highlands side who secured 4 goals, 4 behinds to reach a total of 28.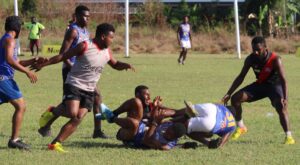 The Northern side team captain, Emmous Wartovo, had nothing but praises for his boys who put up a good challenge for the Highlands side and appreciated the Port Moresby AFL Association for also staging the Easter Cup challenge.
"I see a lot of boys coming out to play and it's a good challenge to get the boys focused on the proper season that will start next week."
"I would like to take this opportunity to also thank MoniPlus for their support, because without their sponsorship this tournament would not have been possible."
In the women's grand final, the Southern region side took home the cup after beating the Northern side.
The Southern girls secured 3 goals and 9 behinds to score a total of 27, while the Northern side secured 2 goals and 1 behind to reach a total of 13.
In the men's 3rd and 4th place play- offs, saw the Southern region side coming out victorious after defeating the Niugini Islands side in a very close match.
The Southern boys secured 7 goals, 6 behinds to reach a total of 48, while the Niugini Islands side secured 7 goals and 4 behinds to reach 46.
Nevertheless, everyone went home with a prize each as the runner ups were also awarded prizes for their effort in the Easter Cup challenge.
The grand final played on Sunday wrapped up the MoniPlus Easter Cup challenge and now all the clubs in the association are preparing for the start of the 2022 MoniPlus Port Moresby AFL season, which starts on Saturday the 23rd of April.