Being blessed with an opportunity in life to pursue her education, Daisy Pupdi, a mother of five was one of the many graduates who graduated yesterday at the University of Papua New Guinea's 67th graduation ceremony.
Pupdi who comes from Western Highlands Province, shared her proud moment of achieving what she dreamt about accomplishing and that was to major in Human Resource Management.
As a working mother juggling both family and work commitments as well as her studies, she finally achieved and received her degree in Bachelor of Business Management and Major in Human Resource Management.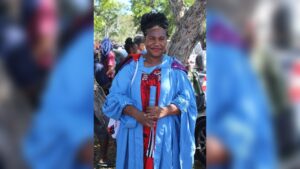 Pupdi gave an insight into her educational journey which took her twenty-two years to accomplish her goals as a student and to finally complete her studies.
"In 2002, I upgraded my marks at the Open Campus and from there I attended International Training Institute (ITI) in 2005. I got a job at Trukai Industries after completing my studies at ITI and then took up a job at the Institute of National Affairs which I am currently at now."
"Whilst working at INA, the organization assisted me in my education. I successfully completed my studies in 2019 however was not able to graduate the following year due to non-payment of my graduation fees as well as outstanding school fees."
After two years, Pupdi finally graduated with flying colors yesterday at the Sir John Guise Indoor Complex Stadium, witnessed by her husband, father and family members.
Pupdi's father who travelled all the way from Mt Hagen to witness her graduation, expressed how happy he was that she finally saw this day coming.
"Mi kam lo Moresby lo lukim hatwok blo Daisy wer mi bin lukim hatwok blong em igo na nau em pinis na nau graduate. Olgeta pikinini graduate em mi kam lo witnessim tasol." (I came to Moresby to see Daisy's hard work finally being paid off in which I have seen her working hard and now has finally graduated. I am here to witness my children's graduation.)
"Mi hamamas na tok tenk yu lo God, em givm pawa lo mipla olgeta na mipla e hamamas. Mi tok tenk yu lo u Daisy, usat e hatwok na nau kism bigpla samting. Mi tok tenk yu lo u tu man blo Daisy usat e stap wantem em na helpim em na e pinis nau." (I am happy and thank God who provides us with the ability and with that we are happy. I thank Daisy who has been working hard and now she has finally achieved something great. I would also like to thank her husband who has been supportive of her and that she is finally done.)
Pupdi's husband who was also there to witness her special day, has always been supportive of her education and her dreams.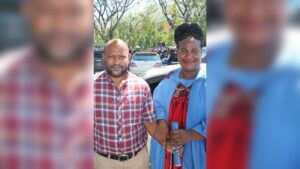 Johnny Yep, shared how it was a momentous occasion for the family that Daisy finally got to complete her studies.
"After the birth of our recent child, I had to help take care of the baby while Daisy carried on with her studies. And now that she has done that, I as the head of the family am very proud and excited that she managed to pull through and getting her degree."
Johnny also shared the challenges of coming from a Highlands background where men normally see women as people who do all the work.
He added that men usually take a free ride on things mainly done by the women especially in the homes and in communities.
"It's about time we tell a different story that challenges other men to be able to support their wives and to create a positive impact in the homes and in the community as well. This way we give equal opportunities to women and I am proud that I was able to do so and with that I am happy."
In addition to this, Johnny has challenged other husbands out there to also support their wives.
"If your wife wasn't able to complete her studies and the interest is still burning in them to further their education, then it would be good to give them that support. If they are already in the work force, that is a chance for them to get an increase in their salary which is a good investment."
He added that at the end of the day, the outcome of all the hard work done comes back to the home to support the kids and the husband, therefore has encouraged other men to do the same.
With that, despite her many challenges, Daisy encouraged those out there who are in the same situation as her not to give up but to continue pursuing their dreams.
She thanked all those who supported her in her journey including husband Johnny, her children, her father, her employer, and all those who stood by her.