The Papua New Guinea Defence Force (PNGDF) Military Band will stand out the next time it performs for the defence force, to the public or even performing at the international stage.
The military band today received new ceremonial uniforms presented by Japan-PNG Association with the support of JICA, the Japan Ground Self Defence Force Military Band and the Japan Ministry of Defence.
Director of the Japan-PNG Association, Mr. Akinori Ito, said the presentation of the new uniforms is the third official assistance to the military band.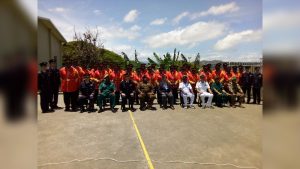 The first was the assistance given to establish the band in 2016 and the second was the donation of used instruments for the band members to train with.
He said the Japan-PNG Association is a non-profit organization based in Tokyo, Japan and focuses on promoting relationship between Japan and PNG.
The Association was established in 2002.
He added that the association gets its funding through membership fees and donations, and with that it has supported the PNGDF military band along with other areas and activities it has supported in the country.
The Deputy Chief of Defence, Commodore Philip Polewara, thanked the support given and said that it will continue to strengthen the relationship between the two countries and its militaries.
"It is a memorable occasion for the PNGDF military brass- band and it started with the undivided full support of the Japan Ground Defence Force Central Band, Japan- PNG Association, JICA and those others behind the scene supporting this program," said the Commodore.
"I also would like to acknowledge the chief instructors and instructors from the Japan Ground Self Defence Force for your commitment, dedication, effort and loyalty to see the PNG defence force military band from its beginning to what it is today."
Meanwhile, the colours of the new look uniforms are bright and represent the colours of the PNG national flag.