James Tedesco admits the Kangaroos need to beat Toa Samoa in the World Cup Final for the tournament to be a success, but the days of Australia dominating the international game are over.
The Kangaroos are raging favourites to stop Samoa becoming the first tier two nation to win the World Cup, but Tedesco says the tournament has shown at least five nations are now able to beat each other on any given day.
"Samoa proved that by beating England, who everyone expected was going to be in the grand final," Tedesco said.
"The Samoa-Tonga quarter-final went down to the wire, us against New Zealand last week was the same, so the quality of each nation has gone up dramatically.
"Boys are choosing to play for their heritage countries over Australia, so every nation is going to be strong.
"This hasn't been an easy tournament for us at all, but there is still an expectation when you play for Australia that you are going to win so we have got to earn it."
Valentine Holmes and Reagan Campbell-Gillard are the only survivors from Australia's 6-0 defeat of England in the 2017 final, with Tedesco playing for Italy at the past two World Cups.
That experience has given the star fullback an understanding of why the likes of Junior Paulo, Brian To'o and Joseph Sua'ali'i have chosen to represent their Samoan heritage, but Tedesco's ambition was always to play for Australia.
To become the Kangaroos captain after former Sydney Roosters team-mate Boyd Cordner was forced to retire is something he could only dream of but Tedesco also understands the responsibility of the role.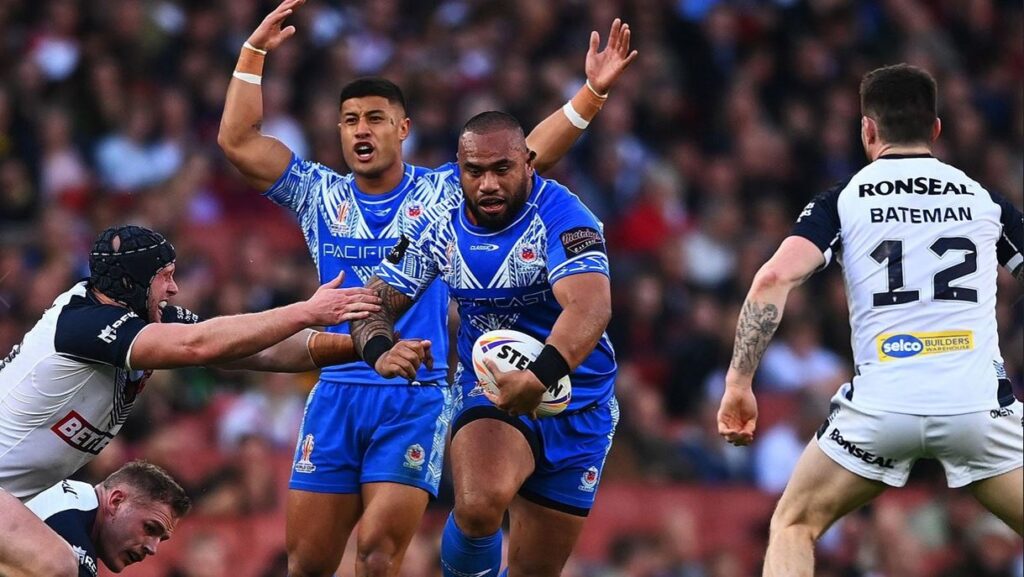 John Raper (1968), Ron Coote (1970), Graeme Langlands (1972), Arthur Beetson (1977), Wally Lewis (1988), Mal Meninga (1992), Brad Fittler (1995, 2000) and Cameron Smith (2013, 2017) have captained Australia to World Cup wins.
"To captain Australia is the highest honour in the game," Tedesco said. "I have had some big honours, captaining the Roosters and NSW, but captaining Australia in a World Cup is definitely at the top.
"There is only a handful who have captained Australia to a World Cup win and they are legends of the game, and Immortals, so to be among those guys would be special.
"I don't want it to end in disappointment, I want to be a successful captain of this team and our country, and it's all about lifting that trophy."
Australian teams of the past have often been driven by a fear of failure, with Wayne Bennett and Ricky Stuart having coaching meltdowns after respectively losing 2005 Tri-Nations and 2008 World Cup.
Meanwhile, Meninga and his players rejected suggestions that the Australian team were any less passionate about Test football than their counterparts representing the Pacific nations.
"I think rugby league is passion," Meninga told a joint press conference with the coaches and captains of the six teams in the men's, women's and wheelchair finals.
"The Samoan team is a really good example of that; playing for their ancestral nation. I'm for that. We need the international game to thrive and they're passionate about it, but so are the Aussies.
"Our guys put their hands up to play for Australia. We are no less passionate than any other nation when we pull on that green and gold jersey.
"The burden we carry is the expectation, but we still play with the passion and the commitment that is conducive of being an Australia. That's the way we want to play and behave."
Hunt said playing for Australia was the pinnacle of the game.
"You can't get to this level or make it to a World Cup without being committed and passionate about what you're doing and about the team and the colours you're wearing," he said.
"I think all 24 of our players have got us just as much passion as any other team."
Source: NRL.Com