Police in Haiti have killed or arrested the gunmen suspected of murdering President Jovenel Moïse, but say they are still hunting the masterminds.
At least four gunmen have been killed and six more detained including, reportedly, a US citizen.
People were urged to stay calm after they burned cars and seized two "foreigners" who they handed to police.
The interim PM has told the BBC that Mr Moïse may have been killed because he was fighting "oligarchs" in Haiti.
The president was shot dead at his home in the early hours of Wednesday. His wife, Martine, was seriously injured and has been flown to Florida for hospital treatment.
The acting prime minister, Claude Joseph, told the BBC "foreign mercenaries" had carried out the attack. Early reports said the attackers spoke English and Spanish – the Haitian official languages are French and Creole.
Mr Joseph said that Mr Moïse had been "fighting against some oligarchs in the country. We don't know if there is a link between those oligarchs and the foreign mercenaries".
Mr Moïse, 53, was deeply unpopular with many Haitians, and had many political opponents. The impoverished nation has also been plagued by gang warfare.
At a press briefing on Thursday afternoon, police chief Léon Charles confirmed that six suspects had been detained, adding: "We have the physical perpetrators in hand and we are looking for the instigators."
He earlier said police had "blocked [the suspects] en route as they left the scene of the crime", killing four.
Although the streets had remained fairly calm in the immediate aftermath of the assassination, the suspected involvement of foreigners has increased anger among the public.
Mr Charles urged residents to remain calm and co-operate with the police, after a crowd had gathered outside a police station in the capital Port-au-Prince where suspects were being detained.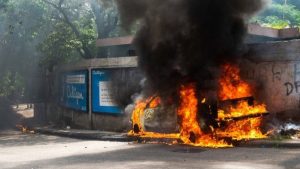 Dozens of Haitians earlier seized two men who they suspected of being involved in the shooting. Video footage showed the pair, who appeared to have suffered injuries, being driven away by armed officers in a pick-up.
The US citizen arrested was of Haitian descent, the elections minister, Mathias Pierre, said.
The US state department said it could not confirm if a US citizen had been held.
Who is in control of the country?
The constitution says the president of the Supreme Court should take over in the event of a presidential vacancy but he recently died of Covid-19.
After that, amendments suggest the prime minister should lead. Ariel Henry had been named this week as the new PM but he has not yet been sworn in.
He insists he should be in charge.
Mr Joseph told the BBC he was "puzzled" by Mr Henry's statement, adding: "We need to leave those things behind and put Haiti forward."
The UN on Thursday gave a boost to Mr Joseph.
The UN special envoy for Haiti, Helen La Lime, said he should remain in charge until elections could be held this year.
And the US said again on Thursday that elections should go ahead this year, with White House spokesperson Jen Psaki saying they would "facilitate a peaceful transfer of power".
Mr Joseph said he would not stand for the presidency. "I'm not here to stay too long. We need to hold elections. I do not have a personal agenda," he said.
How did the attack unfold?
Heavily armed assassins stormed the president's home in the hills above Port-au-Prince at around 01:00 local time (05:00 GMT) on Wednesday.
Video released after the shooting appeared to show heavily armed men dressed in black pretending to be US drugs agents, shouting: "DEA [US Drug Enforcement Administration] operations, everybody stay down!"
Mr Moïse died at the scene. The president's body had 12 bullet wounds, Magistrate Carl Henry Destin told Le Nouvelliste newspaper.
The president's office and bedroom were ransacked and he was found lying on his back, covered in blood, the magistrate said.
The first couple's three children, Jomarlie, Jovenel Jr and Joverlein, are reportedly in a "safe location", officials said.
Even before President Moïse's assassination, the situation in Haiti was marked by instability and there had been widespread protests demanding his resignation.
Parliamentary elections should have been held in October 2019 but disputes delayed them, meaning Mr Moïse had been ruling by decree.
SOURCE: BBC NEWS