SP PNG Hunters believe the challenges of an Intrust Super Cup season far from home are preparing the team for future riches as they head on their longest road trip of the year.
The Hunters board a plane tomorrow for a two-hour flight to Cairns before transferring to a bus for a 90-minute drive to Atherton for the Intrust Super Cup Country Week clash with Northern Pride.
It's an unusual trip but that's been the theme of a season that has thrown up more challenges than expected for the Hunters, who remain in camp on the northern end of the Gold Coast because of Covid restrictions.
Coach Matt Church said the Hunters were learning valuable lessons for the Intrust Super Cup's eventual return to a normal home-and-away format when the Covid situation eases.
"The lessons a lot of our young players are learning though will put them in good stead in the future," Church said.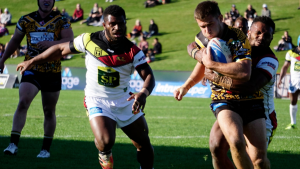 "We are developing a core of young players that should be there for quite a few years and they will benefit from the experiences of this season.
"They've been competing hard for 80 minutes and the game against Burleigh (a 40-6 loss in Round 11) was the only time we weren't in the game at the 55th or 60th minute mark.
"We're not getting the two points as often as we would like but in so many aspects we keep improving and we will see the results of that either as this season progresses or certainly next year and beyond. And we can't lose sight of that."
The clash in Atherton will be another good test for the Hunters, who have won five of their previous 11 matches against the Pride.
The Pride are coming off two consecutive losses which has left them on the edge of the top eight and they will again be without their Cowboys-contracted players who remain in the NRL's Covid bubble.