Schools around the country commenced their first day of school today and Gordon Secondary School in Port Moresby was no exception to this.
A total of 700 plus new intakes (Gr9 & Gr11) were taken through registration this morning at the school.
Deputy Principal Mr Saju Francis said that this year, the competition to secure spaces at their school has been very tough with only 350 spaces being made available for Grade 9 students out of a pool of more than 1700 students from the feeder schools of Wardstrip Demonstration Primary, Coronation Primary and Hohola Demonstration Primary School competing for a space at the school.
Mr Francis when addressing the new intakes (Gr 9s), mentioned that the students must not take for granted their space at the school as there are many other students out there waiting on the reserve list for a space at the school.
"You must be thankful that you now have a place at Gordon Secondary to continue your educational journey."
"You are privileged to be among the best students selected out of more than 1700 students to study here at Gordon Secondary School and so you must wear the school uniform with pride and be good ambassadors of the school," Mr Francis said.
Meanwhile, Deputy Principal Student Services Ms Martha Pitpit has confirmed that with the first day of school successfully commencing today, the school has not yet received the government's first quarter fee component for the year let alone the fee component for the last quarter of 2021 as promised.
This has prompted the school to stick to their original arrangements of the parental component fee payment which was communicated to parents last year well before the government's announcement of the tuition free policy.
Under the school's parental component fee arrangement, students in the lower secondary are required to pay K495 while students in the upper secondary are required to pay a fee of K544.50.
"Late last year, we communicated the parental component fees to students and parents and this has also been communicated to the District Education Board for implementation this year."
"With the government's payment portions not coming through on time, we are now calling on parents to pay their parental component fees so as to allow us to continue operations smoothly at the school," Ms Pitpit said.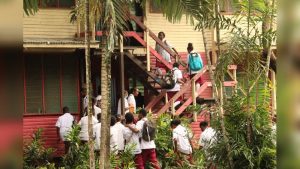 "While this may be the case for school fees, we are not turning any students away from class but are only asking that parents also step in to share the responsibility of educating their children," the Deputy Principal said.
Ms Pitpit further confirmed that the school will commence proper classes on Wednesday after registration and orientation has been completed for all students by Tuesday 1st of February 2022.