Gifted Hands is a clothing business brand that was established back in 2018 by a strong-willed and passionate individual, Alice Simeth Roger who hails from Malaguna # 1, East New Britain Province.
Located at Gerehu in Port Moresby, it is a business that focuses on creating and selling their own branded clothing as well as conducting sewing sessions for PNG meri dresses, ladies' shirts, men's shirts, dress shirts and kaftans.
According to 38-year-old Alice, the inspiration to start her own clothing business came after her mother's passing in 2017.
In 2015 though, Alice had to resign from her job to help take care of her ill mother who was being treated for Kidney Failure.
Whilst taking care of her mother, Alice had to resort to other means of survival to help meet the costs of looking after her mother. She decided then that she would sew and sell dresses to support her mother during her time of illness and so this is what Alice set out to do until her mother's passing in 2017.
Throughout this period, her mother constantly encouraged her to seriously consider starting up her own tailoring business and sewing classes.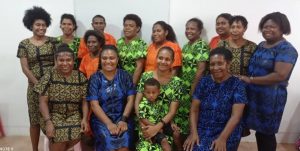 The following year in 2016, Alice decided to start off her business, where she not only would sew and sell but would also offer sewing sessions every Saturday to teach basic sewing skills to mothers and young girls. Slowly but surely, her sewing sessions started getting recognized by her friends and family.
Soon after she started, Alice realised that her sessions were starting to be on high demand and so she decided that she would conduct them on a weekly basis in Port Moresby and in other provinces as well.
Alice first learnt to sew back in 2006 after she left school due to personal issues and wasn't able to complete studies. Due to financial struggles, she had to raise her own funds in order to complete her education. Fortunately for Alice, she had learnt the life skill from an aunt of hers. Every day, she would watch her aunty cut out fabrics and then sew blouses. She would learn as much as she could from what she observed and soon after, started sewing her own meri dresses.
 "Each night when I go off to bed, I would visualize the way my aunt cut the fabrics and sew many interesting designs. It was not long before I finally had the confidence to do it myself."
"As my confidence grew, I started sewing more and more blouses which I then started selling to earn money to help me return to school.
"The money I earned, I saved up for school fees and bus fare to and from International Training Institute where I was studying."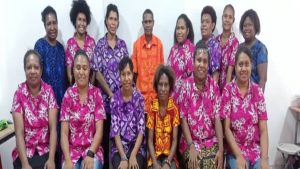 I completed my tertiary education in 2006 and the following year, God blessed me with my first job at NCDC and I held on to this job up until the time I resigned in 2015 to help take care of my mum," Alice said.
Despite the hardships she faced while trying to complete her education, her mother would always encourage her to pray and to learn from the mistakes that she made. Upon prayer, she was inspired by her mother's words and did what she knew would create a successful path for her and that was sewing.
Alice also learnt to start her business during a project – Skills Development Trust Funded, that was conducted during her time with NCDC. The project basically taught her how service providers sort out their sessions, plans, timetables and budgets plans. The skills she learned from this training gave her an added advantage to start her business.
"My confidence and experience in my former job also helped me alot. With all these experiences and confidence, I applied them directly to my current passion which is sewing PNG meriI dresses (kolos).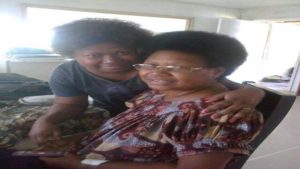 Alice concluded that it was her vision to continue to impact in a positive and influential way that has motivated her to impart her knowledge and skills to others.
She now shares that wisdom and knowledge with other ladies out there who also have the same gift as her but are not sure of where and when to start.
For any interested clients who wish to get in touch with her to purchase meri dresses or to enroll for one of the many sewing sessions that she conducts, she can be reached on her facebook page @ Gifted Hands or alternatively be contact on mobile 72581613.