Hundreds of residents started walking from all four corners of the Nation's Capital, Port Moresby as early as 6am on Friday morning braving the hot sun and the distance to bid farewell at the State funeral of the Rt. Honourable Late Grand Chief Sir Michael Thomas Somare at the Sir Hubert Murray Stadium, the birth place of PNG where he first lowered the Australian flag and raised the PNG flag forty-five years ago.
It was a great show of unity and respect for this giant of a man, who everyone came to call their "PAPA".
The National Capital District came to a total shutdown, for this first-of-its-kind occasion, dubbed as the biggest ever farewell ceremony to go down in the history books, fitting enough for a man, this country is indebted to, a man who deserved a grand goodbye.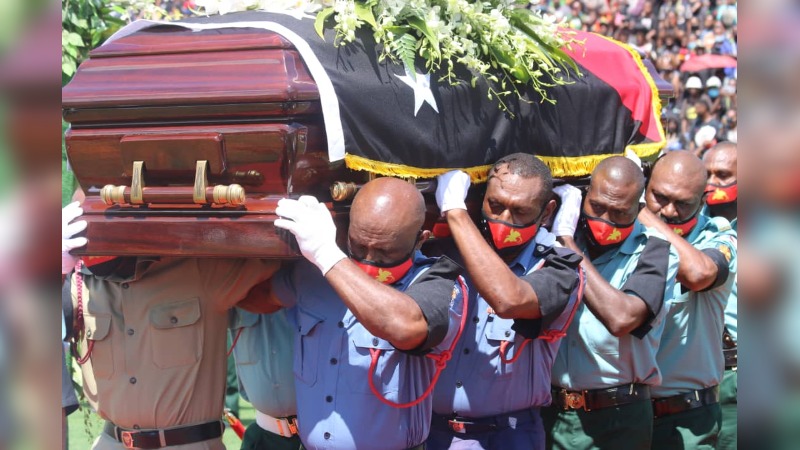 All the streets and suburbs were empty, business houses closed; the informal sector for the first time stopped operating, PMVs, fuel stations, major markets and even the education sector was shut down for this one time.
Those who could not make it to the Sir Hubert Murray Stadium stayed home and waited patiently in front of their television sets to also witness the State Funeral of the Late Grand Chief Sir Michael Thomas Somare.
The stadium was full to capacity, with hundreds more lining up outside, beside the road side waiting for the motorcade of Late Grand Chief braving the heat of the sun until 1:40pm when the motorcade escorting the body of Late Grand Chief was in sight coming down the Poreporena Freeway.
People on the roadsides wept, threw flowers and waved their PNG flags as the motorcade passed by them. Everyone in the stadium all stood up in respect when the motorcade brought in their Late Papa, Grand Chief.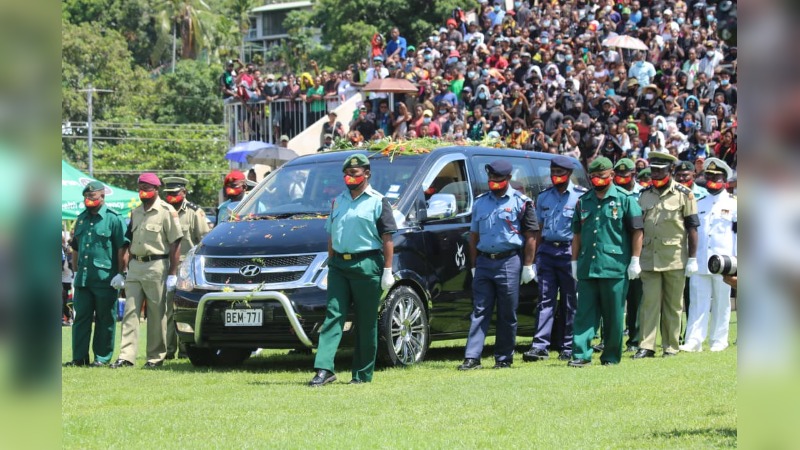 The State Funeral started off with PNG Cardinal and Archbishop of Port Moresby Hi Eminence John Ribat and other bishops placing the Christian Symbol on the casket, followed by the Holy Mass led by Archbishop Ribat.
Dulciana Somare, the youngest daughter of Sir Michael farewelled her dad in his Eulogy. She described her fathers life as "too big to put into a eulogy.
"He followed his heart before his mind, and that was the only way to unite our diverse country," said Dulciana.
Many old friends both in politics and life paid their heartfelt tribute yesterday as well to late Grand Chief. Amongst the tributes was Lady Carol Kidu's who could not make it, and sent her tribute via a recorded video from Brisbane, Australia.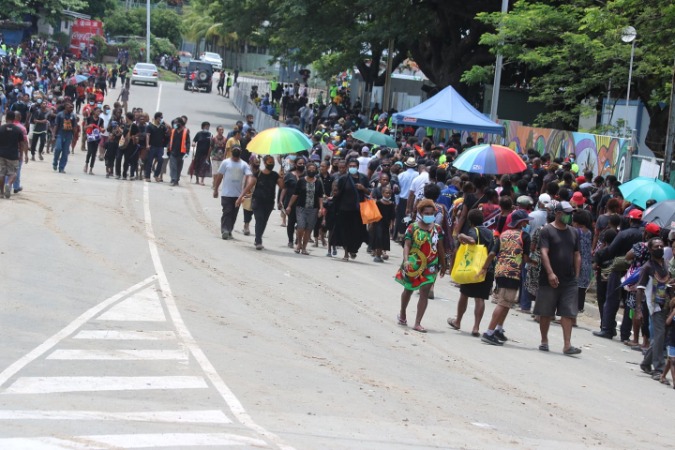 Lady Kidu said Grand Chief Sir Michael was a very kind and passionate man and he was the men who made her career in politics possible in terms of her Ministerial achievements.
Kidu said in 2002 and 2007, many male colleagues opposed the idea of giving her a Ministry but Sir Michael Somare just stood firm and said "Sorry Gentlemen, she will be in my cabinet, it is not negotiable."
Lady Kidu described Late Somare as, "He always believed in giving women a fair go. " Another long time friend Sir Arnold Amet who also paid tribute described Late Grand Chief as the person who lived beyond his time, someone who did what he did then because he already knew how it would impact and change the future.
He describes Somare as someone has portrayed to the Biblical Characters like Moses and Joseph. He was a man of passion and integrity someone who wanted deliverance for their people.
"Somare stands along with the likes of Fiji's Ratu Sir Kamisese Mara who were beacons for the indigenous Pacific Islanders to follow."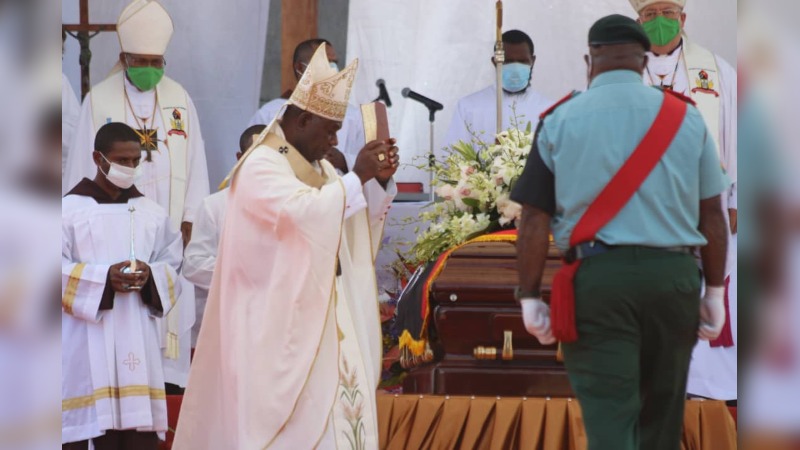 They both believed that the people of the pacific islands should be masters of their own destiny and should have the freedom from suppression. The State Funeral ended at 6pm in the evening during a down pour but people still stood under the rain showing their respect and love for this Giant of a man.
There were also people parking their vehicles along the Poreporena Freeway to wave at the motorcade as it passed with the body of Late Grand Chief to return him to the Funeral Home.
Rt. Honourable Late Grand Chief Sir Michael Thomas Somare's body will leave for Wewak on Sunday 14th March for Wewak, where he will be laid to rest on Kreer heights on Tuesday 16th March, 2021.