Mr. Albert Yaro, Village Chief and Councilor for the Mendpoh tribe of Sol village in Southern Highlands Province has recently been diagnosed with Prostatic Adenocarcinoma or simply put, Prostate Cancer and therefore needs urgent medical treatment in the Philippines.
Prostate cancer is one of the most common types of cancer. Many prostate cancers grow slowly and are confined to the prostate gland, where they may not cause serious harm. However, while some types of prostate cancer grow slowly and may need minimal or even no treatment, other types are aggressive and can spread quickly.
Mr. Yaro is fortunate enough to have detected this form of cancer this early on and so his family has already kickstarted fundraising for him to go overseas to get the much-needed lifesaving medical treatment.
Yaro's second born son Mr. Newton Albert who is a doctor by profession said that his father has always been a fit and healthy man until two months ago when he received the devastating news of being diagnosed with the life-threatening disease.
"My father is a fit and healthy man who has in the last few years been an avid farmer and a village leader for the Mendpoh tribe in Sol village."
"Three months ago, he went to the hospital in Mendi as he was having difficulty passing urine however that visit resulted in him undergoing surgery a month later," Dr. Albert said.
Upon undergoing a successful surgery at the Mendi General Hospital, a pathology test was carried out and specimens sent to Port Moresby General Hospital where the diagnosis was confirmed to be Prostatic Adenocarcinoma.
"We were not expecting to receive such a news that our father has the cancer because he has always been healthy and fit so it came as a bit of a shock to our family," he added.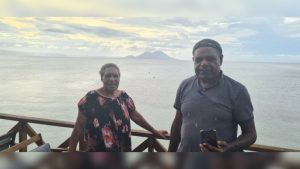 Upon receiving the news though, Dr. Albert and his family decided to get a head start on raising funds so that their father can travel overseas for treatment as soon as possible.
It has been close to four weeks now since the family had started their fundraising drive to meet costs for the operation.
"Two weeks ago, we hosted a fundraising BBQ and this week on Friday, we will be hosting a fundraising dinner at the Dynasty Restaurant in Vision City. There will also be a raffle draw at the dinner."
"We have a target to reach K200 000 in order to meet all costs for the operation and so we are doing all we can to send our father to the Philippines," Dr Albert said.
Apparently, Mr Yaro is the father of Kumuls siblings Wellington and Stanton Albert who have also been supporting the fundraising drive from where they are.
Wellington who is on a contract with Keighley Cougars rugby league club in the UK has also created a 'Go-Fund-Me' account in support of the fundraising drive for his father.
Dr. Albert said that they have received a huge amount of support from the boys' rugby league brothers in the likes of Justin Olam, David Mead and Alex Johnson to name a few.
"We have received great support from the boys' rugby mates as well."
"Justin Olam has donated a Storms jersey as well as the other guys who have also donated jerseys which will be auctioned on the night."
As well as the support from the rugby stars, the Albert family has also been receiving support from family and friends here in the country as well as overseas.
"Friends and family from overseas in the UK, US and Australia have been sending support to us since they heard the news."
"Not only that, we have also been receiving support from in country especially from the ones back home in the village who have been selling their kaukau (sweet potato) and coffee just to send their contributions to us and this has been really moving for our family," Dr. Newton said.
"Our dad is the last village chief standing in his village and so to see the support coming from home has been a humbling experience for us."
Mr Albert said that they are doing all they can for their father and keeping positive throughout the situation and by the grace of God, they will see to it that their father receives the medical attention he needs.
The corporate dinner fundraiser is set for this Friday 20th of August at the Dynasty Restaurant inside Vision City and famous local artists Johnny Yawari and DPJ will be doing live performances while renowned radio personality Elton Kili will be the MC for the night.
Also to be present on the night in support of the fundraiser will be a few players and officials from the Moni-Plus NCDC Port Moresby Vipers.
Anyone who is willing to support the Alberts corporate dinner fundraiser can reach them on the following numbers: 7851 0094, 7100 9226 or 7128 4287.
The tickets are going for K250 individual and K5, 000 for a table of 10.