ExxonMobil PNG, on behalf of the PNG LNG Project, donated playground equipment to the Bogi Literacy School in an effort to support school children in Papa village.
The Bogi Literacy School, located near the PNG LNG Plant in Central Province, has ó0 students and ialso serves as an early learning centre for children between the ages of five and eight.
Alyssa Warner, the PNG LNG Plant Asset Manager, said the donation of the equipment eventuated as a result of their visit to the school last year to donate PPE equipment.
"We noticed that the school had a large open playing field for the children that could accommodate playground equipment. So we got the seesaw and slildes to bring over," warner said.
Bogi Literacy School head teacher Rabia Morea said she was grateful for the continuous support of ExxonMobil PNG, even more so since the onset of the COVID—19 pandemic.
"The children are excited about this playground equipment, and I believe with this donation, the children will be motivated to find joy through playing on the seesaw and the slides," Morea said.
In addition to the playground equipment, EMPNG also donated two television screens to be placed in teacher homes built in 2020 at the Redscar Hiph School and Lealea Primary School. The company also donated a BBQ stand to the Redscar High School to assist with school social activities.
In Aupust last year, ExxonMobil PNG donated PPE equipment to schools adjacent to the PNG LNG Plant including infra-red thermometers, handwashing soap bars and reusable facemasks in support of Government efforts to reduce COVID-19 community transmission.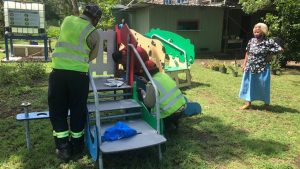 EMPNG staff from LNGP installing the playground equipment at Bogi Litearacy School while school head teacher Rabia Morea look on.
EMPNG staff from LNGP with the students and head teacher of Bogi Literacy School Mrs. Rabia Morea standing around the playground equipment.