The Kerowagi Catholic Church in Simbu Province is making efforts to rehabilitate drug addicts back into the communities.
These marijuana addicts, many of whom are young men, have been rejected by their families and their communities.
The St Christopher's Life Association, headed by Father Christopher Uguro, Parish Priest for Kerowagi Parish, says the church run program has taken on board a large number of drug addicts in the area.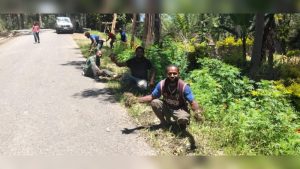 These drug addicts have expressed that they are ready and prepared to leave behind their old ways of life and are willing to start a new lease on life.
The St Christopher's Life Association has engaged these young men to do volunteer work, cleaning in and around community centers and other manual tasks in the area, including the upkeep and maintenance of roads and markets.
The Parish Priest, Fr Christopher, is urging the government, through the provincial administrations and other relevant authorities, to support such rehabilitation programs in rural areas and encourage more government church partnerships to deal with social problems in the country.