The Australian High Commissioner to Papua New Guinea, His Excellency Jon Philp was recently in Madang to launch Melanesian Foundation's 'COVID QnA' booklets.
The booklet was published and designed by the Melanesian Foundation and was funded by the Australian Government and Ok Tedi Mining Ltd.
The booklet created by the Melanesian Foundation was successful through the consultation of Prof Glen Mola, Papua New Guinea's Institute of Medical Research (PNGIMR), various medical professionals and tertiary institutions throughout PNG.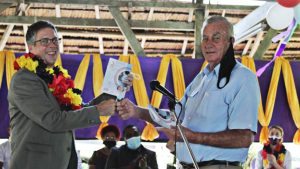 During the launching on Friday the 11th of June, His Excellency Jon Philip had described the booklet as a necessary need to fight the false information that is misleading many Papua New Guineans.
"Materials such as the COVID booklet can dispel many false and misleading information that has already caused panic here in PNG.
Melanesian Foundation's Chairman, Sir Peter Barter also said that the booklet should encourage more people to be vaccinated.
"We need the country's (PNG) economy return back to normal, in order for us to do this we must all get vaccinated immediately."
"The booklet gives clear answers for various questions as well as dispelling fake news that we've all seen on Social Media," said Sir Peter.
The gathering that took place at Madang's Modilon General Hospital was also a part the launching of the Oxford AstraZeneca (AZ) vaccine roll-out in the province
The High Commissioner was also pleased to receive his second dose of the vaccine, which he urged everyone present during the launching to get themselves vaccinated.
"We must think of our families, friends and everyone in our community, we must all be vaccinated."
Sir Peter, was also pleased to receive his second dose of the vaccine.
Many health workers were vaccinated, "this brings back hope for a town that's primarily reliant on its beauty and its potential in attracting tourists," said Sir Peter.