Australia has announced it will fund the construction of a new urban health clinic in the heart of Port Moresby.
Delivered in partnership with the Motu Koita Assembly, NCD Provincial Health Authority, the National Capital District Commission and the local United Church, the new clinic will improve access to healthcare services for
the Motu Koita community through the construction of a new health centre.
The health clinic will be constructed in Hanuabada, National Capital District (NCD) on land allocated by the local United Church.
Today, Australian High Commissioner, HE Jon Philp, joined representatives from the Motu Koita Assembly, United Church, NCD Provincial Health Authority and NCD Commission to break ground for the historic new project.
"Australia is proud to build on our history of health care support to the people living in Motu Koita villages," said the High Commissioner at the launch.
"This partnership will deliver more accessible health services to more than 40,000 people in the local area, and particular improve maternal and child health with the construction of a new birthing suite."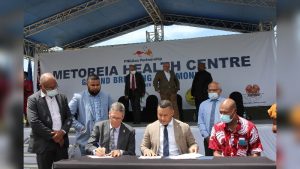 Through this partnership, Australia is committing PGK25 million for the construction. Other partners will provide supporting staffing, equipment and resourcing for the new clinic.
"As part of Australia's COVID-19 emergency response, we recognise it is critical to strengthen health systems and capacity, and improve health facilities across the nation," the High Commissioner concluded.
The clinic will reduce villagers' travel times to access health services. The new facilities will include comprehensive maternal and women's health services, such as health screening, and will have tuberculosis treatment facilities, pathology, dental services, a pharmacy and staff accommodation on site.
The National Department of Health and NCD Provincial Health Authority have been crucial in developing the new health centre's scope and services to meet the needs of local communities.
"The new clinic will enhance health care services within the local area and will help to alleviate overcapacity issues at nearby healthcare facilities, including the Lawes Road Clinic and Port Moresby General Hospital," said the Minister for Health, the Hon Jelta Wong, MP.
"Today, we thank the Australian Government for coming back to assist an old friend. We are rekindling a relationship that goes back more than 100 years," said Hon Dadi Toka MBE, Deputy Governor the National Capital District and Chairman of the Motu Koita Assembly.
"We also thank our key partners, the United Church and the National Capital District Provincial Health Authority for supporting this landmark health facility for the indigenous people of this city," he continued.
Construction for the clinic will commence in 2022 and is scheduled for completion by the end of 2023.
Australia's long standing health partnership with PNG is committed to supporting improved primary health care, through stronger health systems, and more efficient service delivery.