International PNG rugby league rep Keven Appo says giving back to the communities that contributed to his success in his career is a sign of respect and appreciation for all the knowledge, experiences and skills gained whilst playing rugby at the village level.
The SP Hunters second-rower and member of the current train-on squad donated two sets of jerseys to his local club back in Seigu in Goroka last October before heading to Port Moresby for the first block of the Hunters pre-season training.
He said the custom-made jerseys which were sourced all the way from France through an arrangement with the current Hunters Assistant Coach Paul Aiton, will be used by his local club the Eastern Suburbs which is taking part in the famous Gahuku off-season league in Goroka.
The club which was established in 2010 had their first jersey presented to them by Appo's father through collaborative efforts and then in 2014, Appo joined the team and at the same time donated the clubs second jersey which were presented to him by the late Ifisoe Segeyaro.
"When I first started playing in the B grade in 2014, I brought along with me to the team a new set of jerseys which was presented to me by Late Ifisoe Segeyaro in 2012."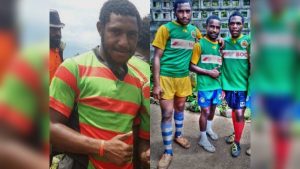 "The set was used for 6 years from 2014 till last year and were to be used this year too when the competition starts except, they won't be using them anymore as they now have two new sets of customised jerseys to play with this year and onwards."
Appo said that such gestures go a long way in boosting the morale of young boys back home who are also working hard to make their rugby dreams come true.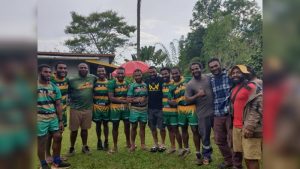 "I was once in their shoes when I started playing in 2014 and to this date, I am the only one from the Eastern Suburbs club who has made it to the Hunters level so I definitely want to go back and invest in these young men's dreams as well," Appo said.
The youngster who is looking forward to celebrating his 23rd birthday in 6 days' time said that his plan for this year is to make the final cuts and to focus on winning more games in the upcoming season.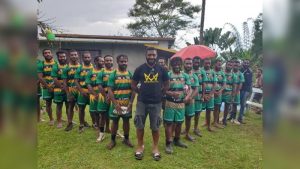 "In everything we do, we all want to move forward so for me this year, the aim is to perform better than last year so that I can make it into the Kumuls team and hopefully make the cut for the Rugby League World Cup later this year."
Appo's fellow Hunter Brandon Nima also did a similar gesture last month when he presented a jersey set to his local club the Five Mile Spartans who did not have a full set team jersey since the formation of the club in 2016.
Nima said his decision to donate the jerseys was influenced by his willingness to motivate and inspire his brothers back in Goroka to refrain from bad behaviors and trouble and instead be good citizens in their community.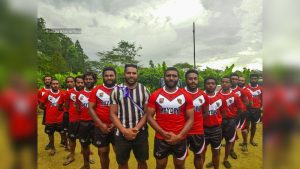 Both men who were home for the festive season have now returned to Port Moresby this week to take on the last leg of the pre-season training with the hopes of making the final cut at the end of this month.
Keven is looking forward to his fourth season with the Hunters this year and said that there is no room to slack off as there are a good number of players who have been enlisted in the pre-season squad and one must work hard to secure his spot.
"Although there are many good players in the camp now, it is however, up to each individual player to prove their worth on the field in order to make the final 26-men squad at the end of this month," Appo said.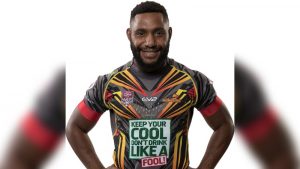 Image sources: SP PNG Hunters, Yomba KisimPiksa, K.Appo