The National Airports Corporation (NAC) wishes to advise the travelling public into and out of Tokua Airport in the East New Britain Province, that reconstruction works on the final 400m section of the airport's runway pavement is currently underway.
This has resulted in a shortened, runway length which at present can only accommodate Dash 8 aircrafts.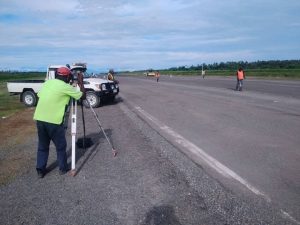 The reconstruction works are being carried out due to pavement failures of previous works which were carried under unsuitable weather conditions. In addition, sourcing of suitable aircraft pavement construction material has also been a challenge and a contributing factor to the delay.
NAC and the Contractor, G-Man Construction Ltd, are now working around the clock to solve the issue, by carrying out major pavement repairs on the area of concern.
This work is being carried out during the day time which requires the runway length, available to aircraft to be reduced, to allow the contractor to carry out the works.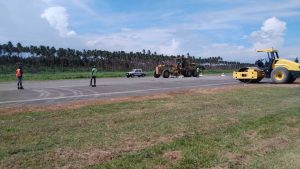 NAC anticipates these major pavement repair works on the runway, to be completed by the 28th of June 2021 and expects jet aircrafts to resume full operation into the airport on the 29!h of June 2021.
Whilst NAC acknowledges and regrets that the current rework on the runway is affecting the flow of air traffic into and out of Tokua, due to the downgrading of aircrafts, it also strongly affirms that this work is critical and is required to be carriecl out to ensure the safe operations of aircrafts and travelling passengers at the airport during this time.
NAC's core objective is to ensure that all 22 national airports in PNG operate in safe and secure aerodrome environments that are compliant to the International Civil Aviation Organisation (ICAOj standards and the Civil Aviation Rules Part 139.
NAC therefore, thanks all stakeholders for your understanding and patience during this time.