Mr Mataio Jainona from a mixed parentage of Milne Bay and Central Province and currently residing in Alotau Town, is a paint specialist by profession and he makes some very unique tables and stools, all from discarded tree stumps and branches.
"This was something I pictured in my mind when I saw timbers left out by chainsaw operators or tree stumps washed up on the beachfront," said Mr Jainona, explaining how he came up with the idea to start out making this uniquely shaped tables and stools.
Mataio works alongside four (4) other young guys in his area, to manufacture these tables and it typically takes a good three (3) days to complete off one of these interesting tables.
"We get tree branches and cut them up and let them sit in the sun for a while to dry out well before we can start working a piece of tree stump or branch into one of our tables," Mataio said.
"After a full day or two of drying out, the piece of wood is dry enough for us to start sanding down, all the while maintaining the natural shape of that particular piece of branch or stump."
"After the sandpapering is all done, we cut off the round tops to be fitted, which are cut by a chainsaw operator, according to the particular shape and size that we want," said Mataio.
Mataio and his team of table makers only recently started out producing this weirdly fantastic tables and stools but the response and interest from his local community members and the broader Alotau community has been very positive.
"Even though we just started out, we have been receiving a good number of requests from interested people and our price range is quite affordable as well, which has further increased the interest from people here in our community," explains Mataio.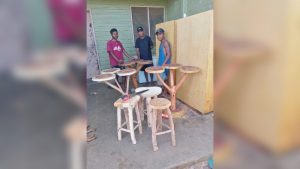 Mataio said the demand for his tables and chairs also has been good and he hopes to supply to lodges and even hotels in his Province of Milne Bay and other provinces too, if the opportunity presents itself.
Matais added that he aims to expand his business in the country once he and his team have established themselves as certified furniture manufacturers in the market.
"Entering the furniture market in the country has been tough, but we are motivated to continue on making our unique furniture, as it is a means to sustain our livelihoods and provide for our family and also, we enjoy producing furniture and we are constantly pushing ourselves to be more innovative and creative in what we do," states Mataio.
Advertising on social media as well, has been beneficial for Mataio and his team, as he has been using his Facebook account to build a broader customer base in the country.
"I get a lot of great comments from interested people online and we also learn a lot from our customers online, which we are grateful for, as we have the opportunity to build a working relationship with our online and real time customers," said Mataio.
Despite the tough financial times being experienced in the country at the moment due to the Covid-19 pandemic, Mataio said his team continues to run their small business effectively, having started out with a small budget and their own limited resources and they are determined to set up a registered and professional business in the furniture market in the country.
"My aim is to set up a registered SME that is centered on the use of natural resources and environmentally friendly methods of manufacturing furniture" said Mataio.
"We rely on our government and this limits our creativity and discourages our resourcefulness," adds Mataio.
"We are a resource rich country and we need to learn to use our natural resources to sustain ourselves, instead of waiting for handouts," Mataio said.
Anyone that is interested in purchasing these handmade tree furniture can reach Mr Mataio Jainona on his Facebook account of the same name.