23-year-old Bonstein Igime from a mixed parentage of Simbu and Western Highlands Provinces today made his parents the proudest when he walked onto the podium to receive his university degree during the University of Papua New Guinea's 66th Graduation Ceremony held at the Sir John Guise Indoor Stadium in Port Moresby.
According to the youngster from Dom Kagul village in Simbu and Togoba in Hagen Central, the university degree has been seventeen years of sweat and blood on his parents' part.
For this reason, he dedicated the degree to both his parents as they are by right, the most important people in the world to be celebrating this achievement with.
Bonstein, who graduated with a Bachelor in Business Management, majoring in Strategic Management, said that if it was not for his parents' support all through these years, he would not have made it this far.
"My parents have been very supportive to me since I first started school and they have always aspired to give the very best to me and my siblings."
"Not only have they been supportive towards my education but they have also supported me in whatever interests I have pursued outside of education," Bonstein said.
For the young Simbu man, the special icing on his graduation celebrations will be the release of his second music video titled "Thankyou Papa Mama" which will be released on his social media platforms a week from now.
Apart from being committed to his studies, Bonstein's other passion lays in the performing arts, especially music.
"I released my first music video titled "I'm Broken Inside" under Rebel Media Productions which was posted on their You Tube account mid of last year and this year, I am set to release my second music video which I am dedicating to both my parents."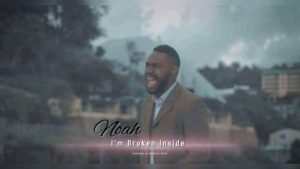 "I was introduced to music when I was doing Grade 3 at Koroboro International School and since then, I have evolved into a self-made music artist," Mr Igime said.
The young university graduate said that the journey towards achieving this first degree has not been easy, especially with a father working as a self-employed contractor for the past seven years and a mother who devotes her time to selling foodstuff, meri blouses and anything else she can manage to sell.
"Being the only boy in a family of five siblings, my parents have always put the interests of me and my sisters before anything else."
"I am the second born in the family and also the first to graduate from university after today and so I am determined to lead by example to my siblings who are still making their way up," Bonstein said.
"In order to show my appreciation and thanks to my hardworking parents, I have written this song for them and I am looking forward to releasing the video soon," he added excitedly.
Bonstein's musical journey kicked off after he was required to present a song/musical item in his 6th grade class as part of an art assignment. Soon after, he went on to sing in church (SDA) and has had the opportunity to harness his musical talent over the years.
"For me as an artist, I am more focused on the lyrical aspect of music making and not entirely on the musical arrangement side of things as I believe anyone can produce great music however, the challenge lies in using the essence of music to produce songs that carry meaning or lyrics that portray a deeper meaning to life," said the upcoming music producer and songwriter.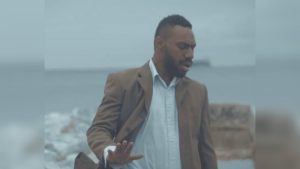 Young Bonstein said that apart from pursuing education, young people should also look at exploring other areas that they might naturally be good at and start to nurture and develop these gifts and talents so that they can always have something to fall back on later in life.
He said that while some young people have the luxury of receiving a good education and getting good grades in school, there are also others that do not have the opportunity to progress in education due to one reason or another. In most cases, there is always at least something unique or a special talent that is possessed by an individual.
"Just because someone does not stand out in a crowd does not mean that they are not good enough."
"It's just a matter of discovering one's gifts and talents and then capitalising on these gifts and talents in order to stand out and in the process, make a mark for oneself in this ever-changing world," the young artist said.
Mr Igime said that with graduation out of the way now, his next biggest focus in life will be to secure a job that will initiate him into the workforce and help him build his career in the business world.
"As a graduate from business school, I believe that more SMEs means more businesses to drive the economy forward and I can't wait to be a part of this through my work and my music and hopefully contribute towards the growth of economy in this country," added the young business graduate.
After today's graduation, Bonstein will focus more on finalising his music video which will be released on You Tube under Rebel Media Productions.
The youngster also took the time to acknowledge and thank his music producer Twin Star Music Studio as well as Rebel Media Productions for working with him on both his music videos.
"I would also like to thank my good friend and brother McSteve Polly who owns Rebel Media Productions for taking care of my music videos and Twin Star Music Studio for working on my music arrangements for my songs released to date."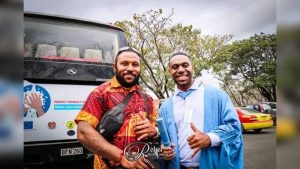 "Without the support of these amazing people, I would not have grown this much in my musical journey."
"Although I am not there yet, I will continue to put in the work required so that I can get better and better with every music release," Mr Igime said.
Bonstein also has a fan page on facebook @ Noah Music – PNG where his music video "Thankyou Mama Papa" will be posted as well.
Images by Rebel Media Productions